Henry White Jr., the acting commissioner of the V.I. Police Department, is concerned that lack of funding for the department could slow down progress on fulfilling the requirements of the consent decree imposed by the U.S. Justice Department in 2009.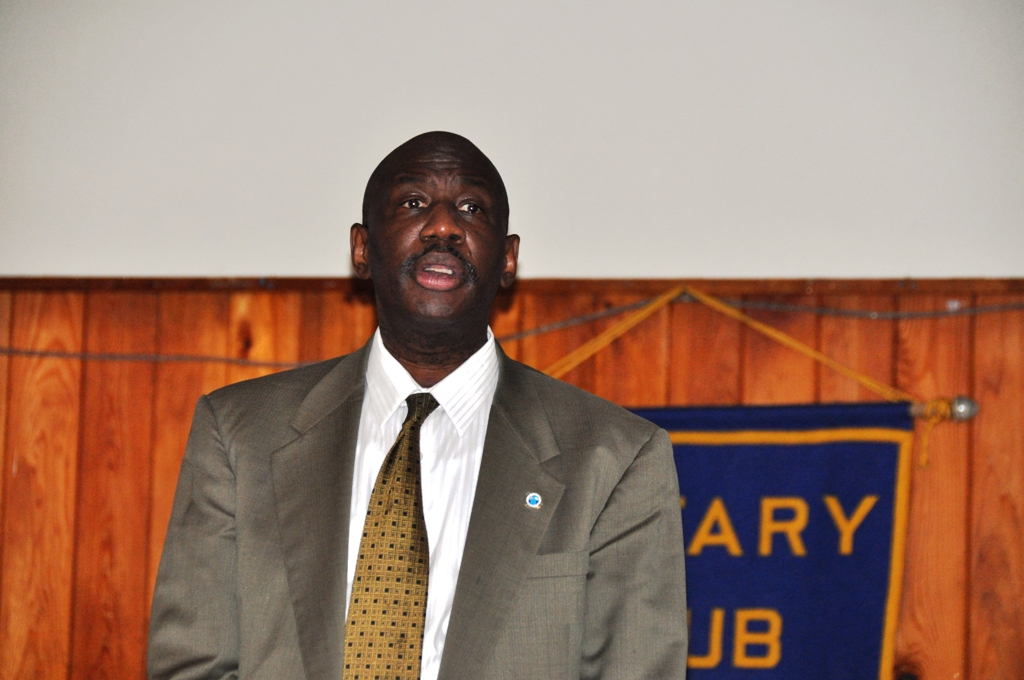 "As you all know there's been a fiscal problem in the government, which impacted this department, but we have to deal with it – it's all about being able to pay for the services that we require," White said Wednesday, addressing the 7 a.m. meeting of the Rotary Club of St. Croix Mid-isle group.
The decree was agreed to by the U.S. Justice Department, the V.I. Police Department and the V.I. Justice Department as a result of an investigation into some VIPD operations launched in 2004, specifically regarding its internal affairs procedures and training programs: complaints of excessive force by police and inadequate training and discipline. White said that when he arrived, the department was already behind on complying with the mandates.
The ongoing fiscal problem has impacted the VIPD, and White added that money is needed to implement training so that the VIPD can comply with the 104 mandates in the consent decree.
Police may be seeing some reprieve, however. Wednesday evening, Government House spokesman Jean Greaux said nearly two dozen part-time auxiliary police officers in the two districts who were dismissed last week are now on administrative leave with pay through January 12. In the last day or two, Acting Commissioner Henry White asked Gov. John deJongh Jr. for authorization to reconsider his (White's) decision to dismiss them and to have the affected officers return to work immediately and the governor concurred, according to Greaux.
In the meantime, White is revisiting his budget to determine where the reductions can be made in lieu of the reduction that would have been generated by the dismissal of the auxiliary officers, Greaux said.
White made it clear he wouldn't address how the department had been affected specifically, and he pointed to Government House for answers, but he did indicate on a few occasions that the VIPD needed money.
With only two months under his belt, White admitted, he couldn't relay much about the island, but he did say he was here to fix the VIPD, and training was his number one priority – which also is a part of the consent decree.
"Our first line of supervision is where we need to address quickly, which is going to require training, training, and training," White said.
The biggest problem in the department, White said, is first line supervision. He said that senior people have been retiring because of the financial crisis, and are being replaced with young people that don't have adequate training.
"You've got young people teaching young people – one person's been out of the academy for two weeks, and all of a sudden he becomes the senior person; well he doesn't know what he's doing either," White said. "That was one of the problems flagged in the consent decree."
"It will take time to catch up to where we need to be, and this will cause a stalemate – because you need money in order to pay for that as well," White said.
The department has five years to meet the mandates, and in August of last year, the Office of Independent Monitor's quarterly report faulted the territory for the VIPD's slow rate of progress, among other things.
White said Government House will be the ultimate decision maker for how the department proceeds, and said that the VIPD is doing what's necessary to stay mission critical in terms of personnel. It is unclear how many people will be terminated because of the recent fiscal crisis.
One of the differences between living stateside and on an island, White said, is that everybody is connected and in the same location, which makes it necessary to work together to bring crime down. The community, the police department and civic groups all need to work cohesively, along with federal partners in order to get the job done, he said.
"We're all in this thing together, White said. "This is going take a team effort."
In response to a question of when White thinks the average citizen will begin to see positive changes, he said it's not something that happens overnight.
"Five years, possibly if we can pass the consent decree, we can see a difference, but it's going to take time. I wouldn't want to narrow myself down to two years," White said. He added later, "I don't know how to answer that question – not today, if you'd asked me last week, possibly."
White, who was nominated to serve as commissioner in November, is a veteran of more than 30 years in federal and local law enforcement. He started out as a patrol officer in New Jersey just five months after Martin Luther King Jr., was assassinated, because he said he wanted to make a difference. He also served as a detective and state investigator, and spent 22 years as an FBI special agent.