The St. Croix Environmental Association, which opposed plans for Alpine Energy Group to build two power plants burning refuse-derived-fuel and cheap Hovensa petroleum coke, strongly supports plans for one St. Croix plant without pet-coke, SEA Executive Director Paul Chakroff told the Legislature during committee hearings Monday.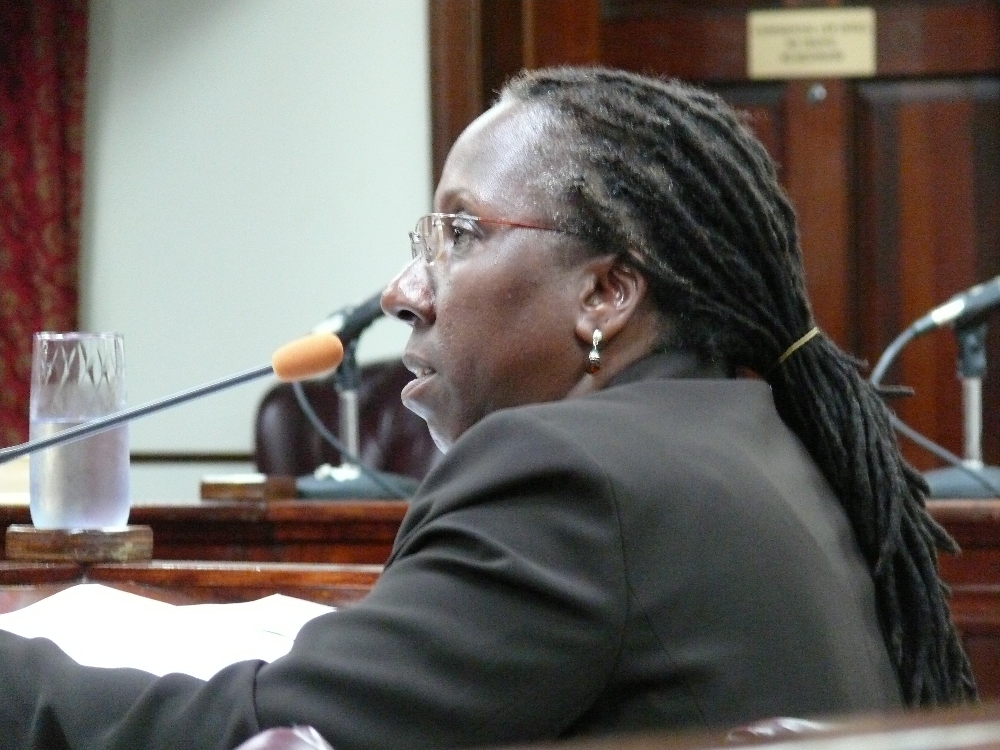 The hearing of the Government Operations Committee, chaired by Sen. Alicia "Chucky" Hansen, touched on an array of projects aimed at lowering utility costs in the territory.
Natural gas, solar, waste-to-energy, and connecting to Puerto Rico's electrical grid are all moving forward and, with conservation, will reduce V.I. electricity costs, but none will lower residents' bills immediately, top Energy Office, Water and Power Authority, and Waste Management officials told the committee Monday.
The Alpine Energy Group (AEG) trash-to-energy proposal is the biggest alternative power production proposal in the pipeline right now. It also helps the territory close its landfills, especially St. Croix's Anguilla landfill, which must stop accepting waste by the end of January to avoid federal fines.
WAPA and the V.I. Waste Management Authority signed agreements with AEG in 2009, for AEG to build trash processing facilities on St. Croix and St. Thomas, to make refuse-derived fuel (RDF) pellets to feed trash-to-energy plants that it would also build on St. Croix and St. Thomas.
Petroleum coke, or pet-coke, which costs about a tenth of the amount for fuel oil, would have boosted the power output, and plans initially called for a 32 megawatt plant on St. Thomas and a 16.5 megawatt plant on St. Croix.
In the face of stiff environmental opposition, the V.I. Legislature voted down a lease for the St. Thomas RDF facility in March of 2010. Senators and residents objected principally to using the very inexpensive, but potentially dirty pet-coke as a fuel. The Legislature had to act because the St. Thomas property is government-owned; the St. Croix plant, however, is planned for private property on the island's southern shore within St. Croix Renaissance Park, and does not need Legislative approval for the lease.
WAPA, WMA, and AEG worked out a scaled back proposal, with RDF plants in both districts, but only the single 16.5 megawatt power plant on St. Croix, and Government House again sent the lease for the St. Thomas facility to the Legislature for approval Dec. 9.
This time, the St. Croix Environmental Association (SEA) is firmly behind the proposal, SEA Executive Director Paul Chakroff testified.
"We supported your vote against the lease in 2010," Chakroff said. As a result of that vote, AEG made major modifications in their proposal, eliminating the use of pet-coke, and scaling back the size and location of its power generating plant, he said. With the new plan, "emissions on a routine basis will be very small – way below the permitted level, and secondly, way below other emissions we are already receiving in the territory," Chakroff said.
Sen. Alvin Williams asked what sort of savings the average customer could anticipate if and when the AEG trash-to-energy plan comes to fruition.
"It would be at a cost of about 15 cents per kilowatt hour, versus about 35 cents now," WAPA CFO Joseph Boschulte said. WAPA Chief Operating Officer Glenn Rothgeb added AEG would be supplying only about 16 percent of power production, so consumers would ultimately see somewhere around a 10 percent reduction from what they would pay otherwise.
Sen. Janette Millin-Young asked how fast consumers could see relief if the AEG project goes through.
"Maybe three to five years if we don't move quickly," WMA Executive Director May Adams Cornwall said. "Had we moved forward with the pet-coke option, we would have been in operation today."
AEG suspended the permit process while it reworked the plan, and is now waiting for the V.I. Legislature to act on two measures: a lease for AEG's St. Thomas plant in Estate Bovoni, and a credit authorization the company says it needs to get financing without a contract for cheap, plentiful pet-coke fuel, Cornwall said.
Once the lease is in place, AEG will pursue V.I. Coastal Zone Management permits and U.S. Environmental Protection Agency approval, she said.
Millin-Young asked why WMA and WAPA had "gone so far without the EPA at the table."
Cornwall said the lease had to be approved first, before any EPA or CZM action, because the plant's location had to be finalized before specific plans could be made and permits applied for.
Meanwhile, WAPA is moving forward with a 10-megawatt solar project. It has narrowed the field of bidders to six finalists, and anticipates a final selection in early summer 2012, Rothgeb said. Power is supposed to come online before the end of 2013, according to WAPA, so solar power may well start before trash-to-energy does.
For a notion of what that 10 megawatts signifies, at peak operation, St. Croix consumes 55 megawatts and St. Thomas 88 megawatts, according to past statements from WAPA.
On other fronts, WAPA has looked at converting some of its existing oil burning units to liquefied natural gas, and finds it could save money and reduce emissions, but transporting, storing, and handling the gas are stumbling blocks that need to be overcome, according to Rothgeb.
Later in the hearing, V.I. Energy Office Director Karl Knight estimated it would cost WAPA $150 million to convert its turbines, get specialized transport ships, refrigerated storage tanks, and pipelines needed to transition over to natural gas.
WAPA is also looking at connecting to Puerto Rico's grid via two underwater cables. Feasibility studies have been done, and the most pessimistic projections, with no federal help at all, suspect an interconnection with Puerto Rico would save at least $18 million per year, WAPA Transmission and Distribution Director Clinton Hedrington said. "That is the savings for only 20 megawatts, a small portion of the load," Hedrington said. Savings would be larger if the territory purchased more power, he added.
Hansen said she opposed connecting to Puerto Rico's grid because she believes Puerto Rico would break the contract and turn off V.I. power.
"That is how Puerto Ricans fight: by whatever means necessary," Hansen said. "I don't believe we should give the people of Puerto Rico the power to turn the switch off. And no National Guard gonna stop them because they are Puerto Ricans too."
WAPA would still have all of its generators and its own grid, so Puerto Rico would not actually be able to cut off the territory's power even if it broke its contract to supply power, Rothgeb said. "There are many advantages to being part of a larger grid," he said.
No votes were taken at the hearing. Present were: Hansen, Millin-Young, Williams and Sen. Usie Richards. Absent were Sens. Celestino White, Ronald Russell, and Terrence "Positive" Nelson. Sen. Sammuel Sanes, not a committee member, was also present.