When the hundreds of children who flocked to Emancipation Garden Saturday afternoon for Gov. John P. deJongh and first lady Cecile deJongh's annual Christmas party woke up Saturday morning, they had no idea they would go home with two new seven-year-old friends – Becca and Khalid.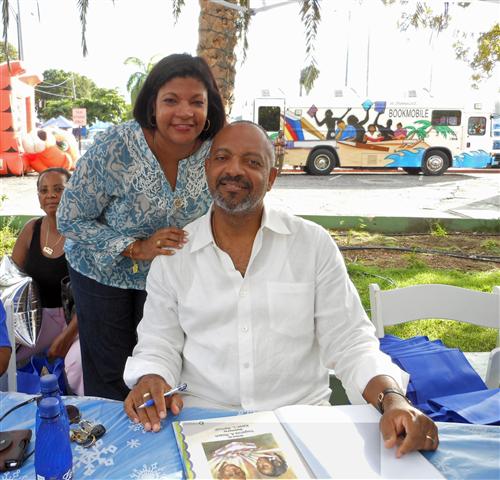 These new friends, it turns out, have a lot to teach the children, including what's important in life. Becca and Khalid are the stars of local author Tregenza Roach's first children's book, brought to life by his imagination and the urging of Cecile deJongh. The first lady, herself surrounded by fans, spoke about the endeavor Saturday afternoon, as Roach fans, big and small, lined up for an autographed copy of "The Lesson Box."
"We asked Tregenza last year to write a book for children as part of this year's Christmas parties as part of the literacy initiative," deJongh said.
The first lady has worked continuously to help improve the Virgin Islands literacy rate. She is the spokesperson for the territory's Big Read initiative sponsored by the National Endowment for the Arts.
"The book is a wonderful expression of a child's curiosity and it has several teaching moments," the first lady said, clearly delighted with the finished product.
The handsome book is illustrated by St. John artist Karen L Samuel. Roach took a few carefully carved out moments from the long line of autograph seekers to discuss the creation of the book.
"It wasn't so much an inspiration," he said, "as an obligation. I was so fortunate. I had two grandparents who told me stories, which taught me values and encouraged my imagination."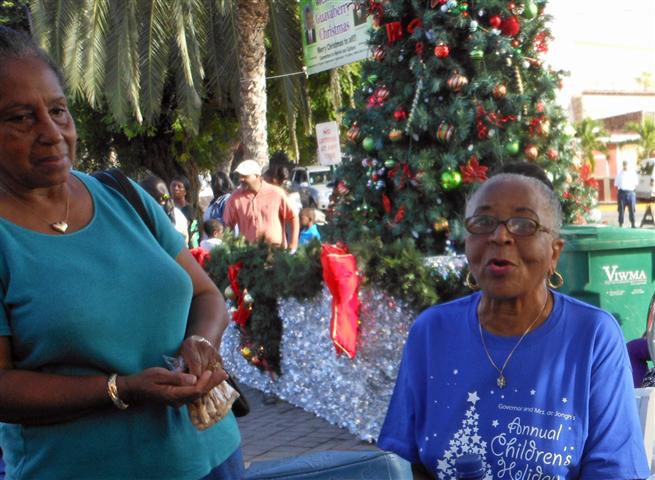 Roach's imagination naturally turns to poetry, most recently "The Blessing of Rain and Other Poems." He harkens back to his roots when discussing his literary gifts. "The Lesson Box," is dedicated to "All the children of the beautiful Virgin Islands and to my grandmother Elzeva Mason Garvey who taught me many stories."
Emancipation Garden was a virtual fairyland Saturday. Literally hundreds of children flocked to booths set up all over the garden to get their faces painted, to learn how to decorate cupcakes, or just to run and bound around in anticipation of Santa's impending arrival. Even the lignum vitae trees were decorated with school children's' ornaments.
Santa didn't disappoint. With sirens screaming over the already noisy garden, Santa stepped from the rear of a bright red fire truck, and was immediately escorted by a bevy of small folks to the gazebo where, assisted by elves, he took a seat and began his duties.
Santa, the indefatigable Chris Finch, commissioner of the Department of Human Services, listened carefully as each child climbed on to his lap and whispered in his ear. He has to have done this a thousand times over the past few years, but the joy and care he takes in it never seems to wane. He simply must have been born to it (even with his natural white beard and whiskers).
Just ask a kid. "He really is Santa, you know, he's real," one tot was overheard telling another.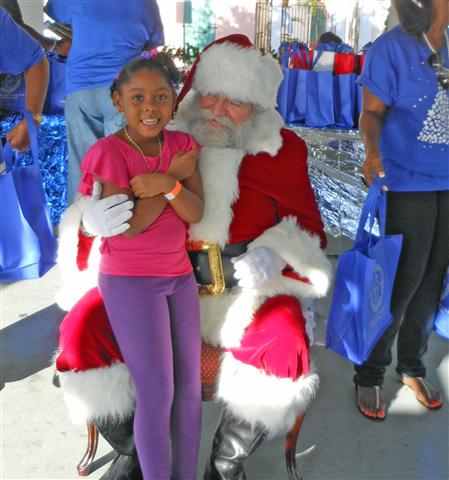 The Garden was dotted with volunteers in bright blue T-shirts, leading the youngsters to different activities, and some volunteers in civvies, such as Agriculture Commissioner Louis Petersen, who was busy directing traffic to Roach for the book-signing. "It's a great day," Petersen said with a big smile.
This year's Christmas parties started on St. Croix, Dec. 10, St. Thomas, Dec. 17, and the final party on St. John, Dec. 19, at the Battery from 5:30 to 6:30 p.m.