Hundreds of people packed the parking lot of La Reine Chicken Shack on Saturday, for a taste of some of St. Croix's best holiday drinks at the fourth annual Coquito Festival. The festival brought 14 vendors together with bottles of homemade Coquito, all hoping to win the top prize for the best drink.
The festival began in 2007, and is the brain child of the Chicken Shack's co-owner, Angel Diaz, who wanted to do something to give back to the community. Since 2002, the restaurant has always provided a Christmas party for children, where 100 kids get the chance to take home presents from Santa with free raffle tickets, but Diaz wanted to expand the party.
This year, Stanley & the Ten Sleepless Knights jammed on the huge stage in the parking lot, while customers drank, children danced, and vendors tried to get people to buy their homemade concoctions.
"The main reason we started this was on behalf of the community. With live entertainment and Santa Claus, it's just our way of giving back and telling the community thank-you," Diaz said.
Coquito is a rich, intoxicating adaptation of the traditional eggnog that stems from a long tradition in Puerto Rico. The drink is usually made with rum, coconut, nutmeg, cinnamon, cloves, and condensed milk, along with various secret ingredients. Sometimes there are other milk products, or egg yolks, and the drink is usually thick and creamy and can be either spicy or sweet.
Jonathan Small, who won the first place prize last year, had dozens of his sealed bottles of homemade "Cockito" for sell. Small said he spent two years in Puerto Rico at the university and just started making the beverage as a hobby five years ago, perfecting the recipe each year. Customers described it as sweet and creamy with an aftertaste that had a zing of cinnamon.
Delia Delgado makes it every year for Christmas and said that she loved having the opportunity to make the drink for the festival, so that others could try her recipe. Plus, every little bit helps, she said, referring to the economy.
"The economy is bad and I just thought I want to make a little extra for the holidays," Delgado said.
Most vendors sold full 750 ml bottles for around $20, and some had different variations from the original Coquito flavor. Rayna Giron, originally from the Dominican Republic, makes Coquito for a living and has six different flavors to choose from, including candy cane and chocolate, in addition to the original.
"I have a little kitchen, a business called Rayna and Things, and this is how I make my living all year," Giron said. "I love this festival because everybody comes together as a family and we make money at the same time."
Violeta Aloyo only makes Coquito for the competition, and she uses her mother's recipe that is from Puerto Rico. She said she uses cinnamon, vanilla, clove, and then adds fresh coconut and condensed milk to hers after it's been boiled.
"I like the festival because you get to enjoy yourself and you can bring the children and get to make Coquito and sell bottles of it for Christmas," Aloyo said, smiling.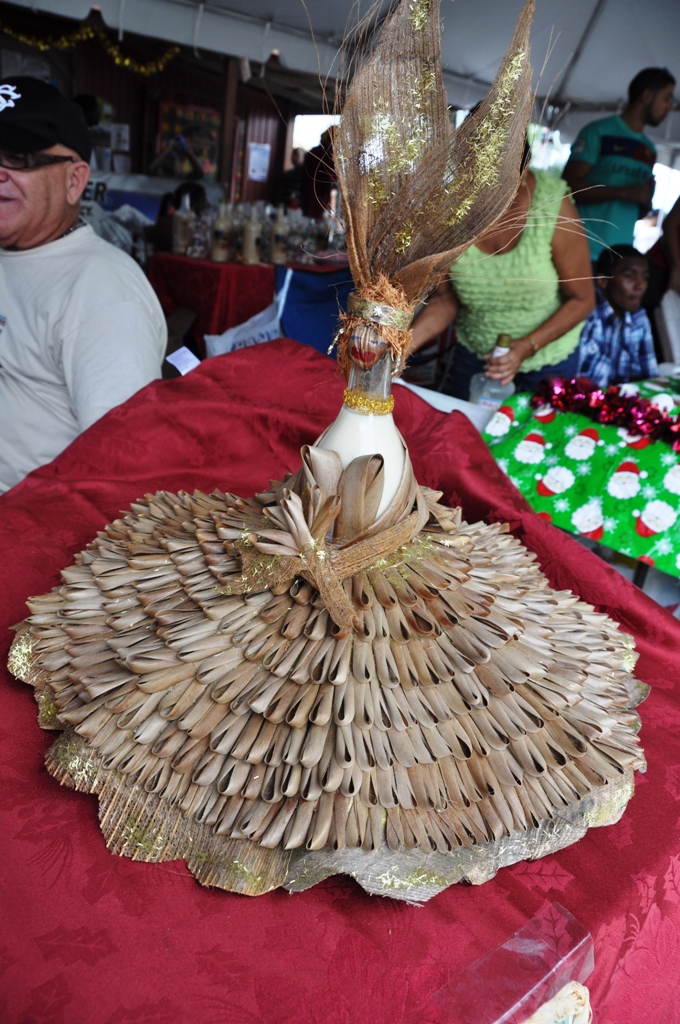 Daniel Matarangas-King, who has helped organize the event since the beginning, said that it gives a unique opportunity for businesses to come out and showcase their products, and they also get a chance to have fun and enjoy the festival.
"It's a way to get the community and businesses to come together for a common purpose of getting their products out there, and they get to have fun while doing it," he said.
Matarangas-King explained that there are always three judges that conduct a blind taste test, so there's no way of knowing who the winner is until they are announced at the end.
"We pick people to judge who live here and who know Coquito and have tasted it – usually we try to pick people from different backgrounds, who can appreciate it," he said. "They take little sips, swish it around and swallow it, then between each test we eat cheese and crackers to cleanse our pallets."
The top three prizes were judged on a 30-point scale and went to the best-tasting drinks. An additional prize was given out for the "best dressed bottle," which was judged on creativity, and on how the bottle best represented the person's stated theme:
First Place ($500): Carlos and Carmen Camacho
Second Place ($250): Carmen Santiago
Third Place ($125): Rayna Giron
Best Dressed ($125): Petra Aroyo