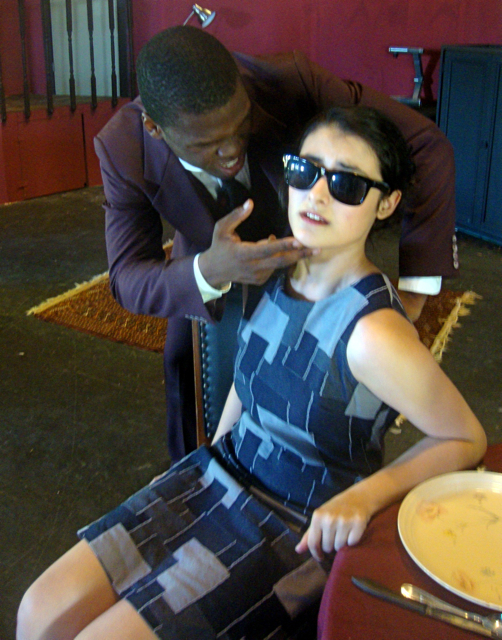 Ned Washburn wants to make you jump.
Washburn is directing the Good Hope School's fall drama, the classic thriller "Wait Until Dark."
"We've never tried to scare people," he said Wednesday as his young cast and crew scurried around the James C. Savage Center for the Performing Arts getting ready for their final rehearsal. "I wanted a challenge for me and for the cast."
"Whodunits" are a standard part of the fare of high school theater, he said, but not actual fright. But "Wait Until Dark" has enough tension that audiences should be on the edge of their seats, and by the end, if Washburn has his way, audiences will jump.
This is the fourth play the English teacher has directed at the school. Two years ago he tried stretching the boundaries of high school drama in a direction, staging the racy French farce, "13 Rue de L' Amour."
"People have a certain impression of what a high school play is," he said. "I want them when they leave to say, 'Well I didn't expect that!'"
"Wait Until Dark" is a 1966 play by Frederick Knott that ran for more than 300 performances on Broadway and a year later became a popular movie starring Audrey Hepburn, Alan Arkin and Richard Crenna.
The play focuses on Susy, a woman who recently lost her sight, who is terrorized by a psychotic con man and his crew who are trying to recover a shipment of blood diamonds her husband inadvertently brought home to her in a doll. A deadly game of cat and mouse ensues as she discovers she is the victim of an elaborate charade. To level the paying field Susy turns off all the lights in her apartment, leaving her foe to maneuver in the dark until the game ends.
The movie version is raked 55th on "100 Years… 100 Thrills," the American Film Institute's 2001 list of the most frightening movies ever. The climax of the movie was ranked 10th on Bravo TV's list of The 100 Scariest Movie Moments.
The play will be performed at 8 p.m. Thursday, Friday and Saturday at the Good Hope School's James C. Savage Center for the Performing Arts. Tickets are available at the door, they cost $5 for students and $10 for adults.
Dinner before the show, prepared by Keith Weitzman from Bernie's Beach Cafe at Sprat Hole Beach, will be available Friday and Saturday. Those interested can call the school for reservations at 772-7495.