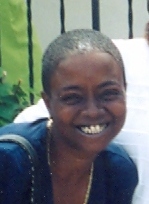 Cynthia H. Swift died on Oct. 31 at her residence. She was 47 years old.
She is survived by her mother, Utah Swift; father, Reginald Swift; son, Alvin Smith Jr.; brothers: Glenn Price, Elvis Swift and Recaldo Swift; sister, Junie Swift; aunts:
Edris George, Muricia Romney, Maria Batien and Joan Swift; uncles: Joseph Williams and Alex Swift; nephew, Kahseem Prince; niece, Sekoia Prince; godmother, Gerda Gottlieb; special friends:
Antoinette Smith, Melonie Francis, Lester Madox and Pamela Nicholas; aunt-in-law, Joan Swift; family friend, Alvin Smith Sr.; as well as other relatives and friends too numerous to mention.
There will be a viewing held at 9 a.m. followed by a funeral service at 10 a.m. on Monday, Nov. 14, at Christchurch Methodist. Interment will be at Western Cemetery No. 1.
All arrangements are by Davis Funeral Home, 774-1464.