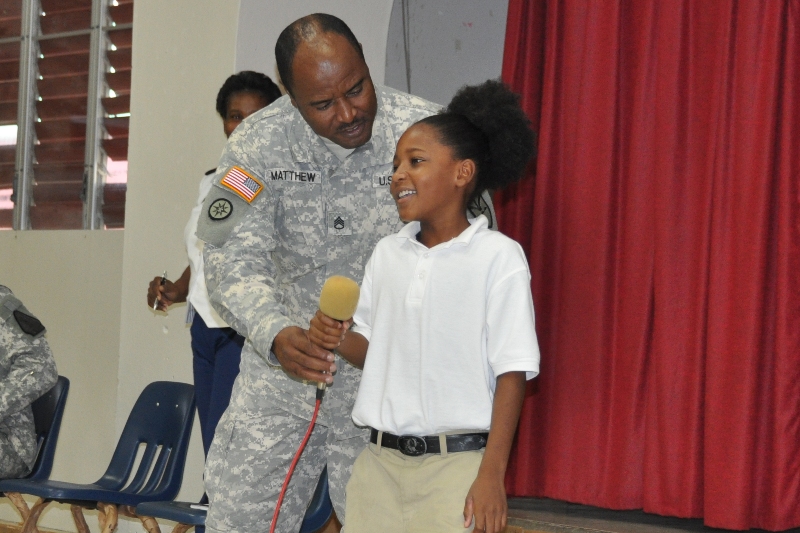 Lew Muckle Elementary School students were spellbound Wednesday morning as V.I. National Guardsmen spoke about their deployment experiences in a forum to teach third- through sixth-graders about the importance of Veterans Day.
Five V.I. Guardsmen told the students in the school's auditorium about their military careers and gave personal histories of how they qualified to become veterans, answering the school's theme "What Does Veterans Day Mean to Me?"
VING Public Affairs Officer Master Sgt. Karen Williams introduced the soldiers and told the students that they were brought to the school so that they can understand the significance and importance of the holiday.
"A lot of times people look at it as a day off; it truly isn't a day off. No you don't have to report to school, but it's a day of observance, and that's something that we have to remember," Williams said. "There are people that sacrificed their lives and times so that you can enjoy the freedoms that you do here."
Williams called on two students to come up to the front with their own definitions of freedom.
One little girl bounced to the front happily when she was called. "Freedom is having to do whatever you want without somebody to tell you that you cannot do it," she said.
Another boy said quietly, "Freedom is when you don't have to be in slavery no more."
Williams nodded her head in agreement with both definitions and added that those who serve in uniform do so to protect their freedom. Williams gave an overview of the history of Veterans Day and explained what it means to be a veteran in the V.I. National Guard.
A handful of students volunteered to come up and explain their definitions of what it means to be a veteran.
One boy said, "A veteran is someone who gave us freedom to fight for our rights."
Another said, "A veteran is somebody who serves in the Army or military and they fight for our country and they do something to help us in the community."
According to Harry Daniel, the assistant director of the Office of Veterans Affairs, soldiers and airmen currently serving can qualify for veteran's benefits, but aren't considered "veterans" by the federal definition until the date of discharge.
Command Sgt. Maj.Jerraine Miller, Staff Sgt. Elroy Matthew, Staff Sgt. Philip Grant, and Sgt. Akimo Lionel, who attended the forum, were all deployed for six months or longer and were all honorably discharged back to the VING, qualifying them as veterans.
"Veterans come from all parts of the nation; we come from all parts of life. We are men, we are women. We are fathers, we are mothers. We are sons, we are daughters. We are rich, we are poor. We are in between. We are culturally diverse. We are deployed overseas. We are citizen soldiers and airmen, guardsmen. We are volunteers, we are American veterans," Williams said, receiving a thunderous applause from the children.
In addition to telling the students about the importance of Veterans Day, the soldiers also used the forum as a teaching opportunity.
For example, Miller – a 29-year Guard veteran –emphasized the importance of getting an education, explaining that her success in making it to the highest enlisted rank of E-9 was due to hard work and staying away from drugs. Miller also explained how her deployment to Guantanamo Bay from 2009 to 2010 shaped her experience as a veteran.
"It was a great experience, and I was able to work with the Army, Air Force, Marines and Navy," Miller said. "It was quite educational to work with all of the different forces to see exactly what we all do to make freedom for citizens of the United States."
Miller told the kids why having the day off from school is so important and asked that the students show up at the parade to give their support.
"Yes, it's a holiday, but we want you to understand when you're off on Friday, you should say 'thank-you' to the men and women in the U.S. Armed Forces," Miller said.
A smiling Sgt. Matthew told students about growing up on the island and how he joined the military after graduating from Central High School. Matthew explained to the students that his deployment to Balad, Iraq, in 2007 qualified him as a veteran and told the kids what the deployment was like.
"Listen to your teacher and try and not to go to jail. Make sure you do right always. Respect your parents, your teacher, and get an education," Matthew said.
When Lionel, who deployed to Afghanistan in 2004, asked the students if they were happy to be out of school Friday, the kids screamed and hollered excitedly "YES!"
"I remember being your age and being so happy because my mom would tell me I didn't have school that day, but I never really understood the reason why," Lionel said. "Now that I'm a soldier in the National Guard, I have an understanding of Veterans Day and what it means."
Lionel also told the students never to give up on their dreams, explaining how his dream to become an artist became a reality in the VING. His full-time job is doing graphic design for the Guard, and he said the kids could do anything they set their minds to.
"Somebody did a lot in the past for you to have what you have today – that's what Veterans Day really means," Lionel said.
Grant, who also deployed to Iraq in 2007, told the students that Veterans Day is just like a birthday; it comes once a year and is a day worth observing and remembering.
"I really want the students to be aware of holidays that they have off from school and especially significant events that led to ones such as Veterans Day," said event coordinator and teacher Vida Petersen.
Guardsmen will also share their experiences at Charles H. Emmanuel Elementary on Monday at 1 p.m.
Presently, 600 V.I. National Guardsmen are deployed to operations or conflicts worldwide.