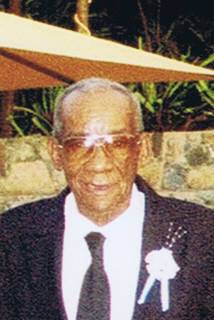 Otis Rieara died on Nov. 1 at Schneider Regional Medical Center. He was 85 years old.
He is survived by his sons:
Alphonso, Antonio, Anselmo, Alberto, Otis Jr., Austin and Elroy Rieara; daughters: Delores Rieara, Karen Rieara Moqueen, Cleone Rieara Henley, Delta Rieara Matthews and Maria Rieara; stepson, David Rosario; sisters: Maria Rieara and Calma Rieara Williams; more that 50 grandchildren; more that 40 great grandchildren; as well as many other loving relatives and friends.
There will be a viewing held from 4-6 p.m. on Sunday, Nov. 13, at Davis Funeral Home Chapel. A second vieiwing will be held at 10 a.m. followed by a funeral service at 11 a.m. on Monday, Nov. 14, at Davis Funeral Home Chapel. Interment will be at Eastern Cemetery.
All arrangements are by Davis Funeral Home, 774-1464.