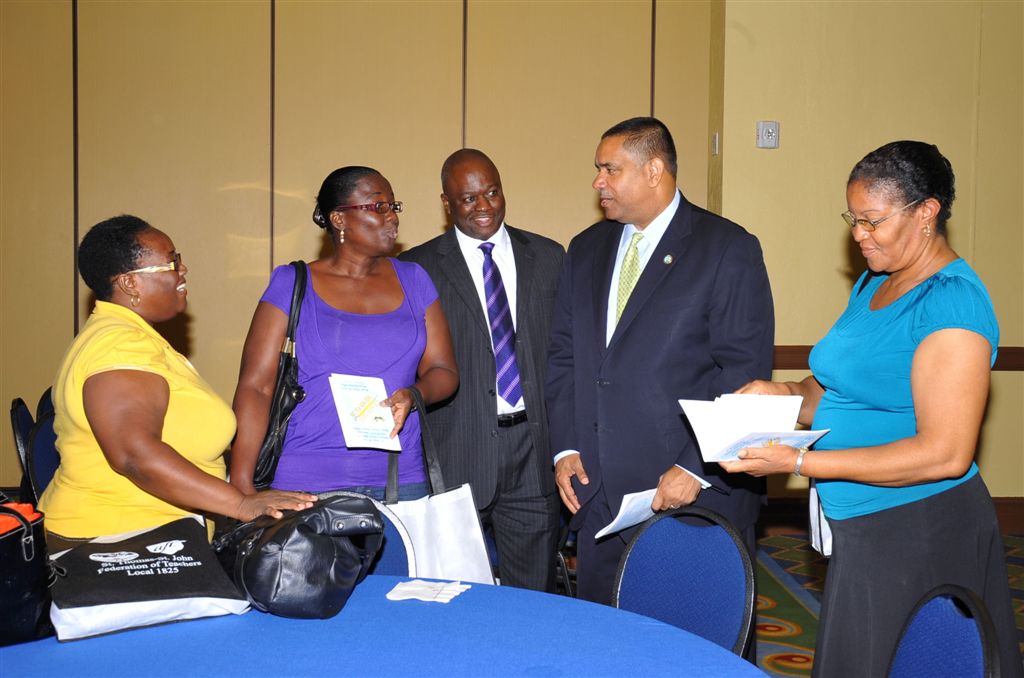 At the opening of the St. Thomas-St. John American Federation of Teachers conference at Marriott Frenchman's Reef Monday, Gov. John deJongh Jr. called upon teachers to set higher goals for themselves and their students.
The conference fell in the midst of teacher contract negotiations, and deJongh called for benchmarks to be included that would establish accountability.
"I do not accept that there is anything wrong with our children that prevents them – any of them – from meeting the high standards necessary for success in these complex and demanding times," deJongh said.
Citing the abysmal Iowa test scores of V.I. students – averaging less than 45th percentile in reading and 40th in math – deJongh said it was time for a meaningful discussions that would advance student achievement, and that any new agreements between the teachers and administration must include "big and dramatic changes."
DeJongh did not mention specific changes, but a release from Government House sent Monday night laid out by actual grade level the alarming Iowa test results:
—in 2011, third-grade students in the St. Croix District ranked in the 40th percentile in reading. In the St. Thomas/St. John District, the results were even worse, scoring only in the 31st percentile of the students who took the test. In the math category, the St. Croix third-graders scored in the 32nd percentile, while the St. Thomas/St. John scored about the 33rd percentile;
—sixth-graders on St. Croix scored at the 37th percentile for reading and 40th percentile for math. St. Thomas/St. John students scored at the 34th percentile for reading and 31st percentile for math;
—In the 11th grade, the St. Croix students scored at the 38th percentile for reading and 32nd percentile for math, while St. Thomas/St. John scored at the 45th percentile for reading and 35th percentile for math.
DeJongh said while he understood that the recent across-the-board 8 percent pay cut brought hardship to individuals, teachers in particular needed to rise above personal concerns and work toward the greater good of their students.
The theme of the 33rd anniversary professional development conference was TEACH 2011: Doing More With Less.
DeJongh said any hope of increasing the test scores and meeting significant goals to better student outcomes would require quality teachers.
"To reach these goals requires that we attract, train, invest and retain teachers and all others who ensure that success of our educational system," he said.
Nationwide, the release noted, 280,0000 education jobs have been lost since 2008, unlike the U.S. Virgin Islands where no jobs in education have been eliminated due to budgetary issues.