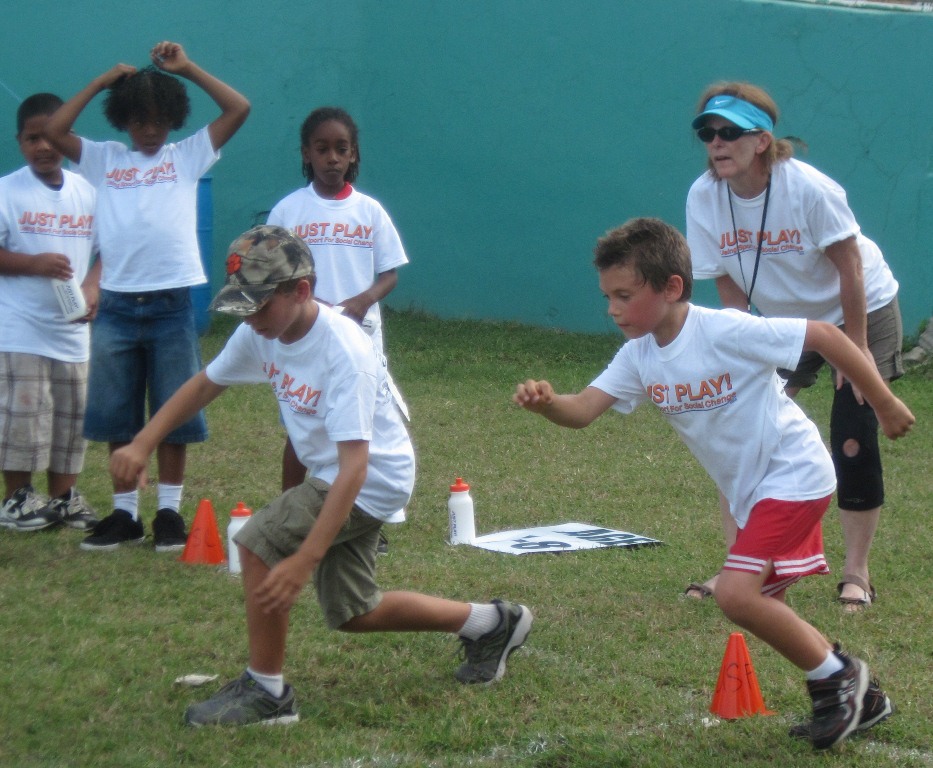 Sunny skies and a dry Winston Wells Ballfield meant A-plus conditions for Monday's third annual Just Play Day, held to give St. John kids something to do on the Columbus Day school holiday and to introduce them to various sports.
"I came to have fun," Anthony Vasquez, 10, said.
He was hanging out with friends Jerry Smith, 6, and Abraham Brown, 10, as they waited for Just Play Day to begin.
"I'm looking forward to getting trophies," Brown said, adding that he was also excited to play tug of war.
Smith said that baseball, football, basketball, and tennis would be his favorites.
"Everything," he said.
Kaitlin Bleyer, 11, said that if she wasn't at Just Play Day, she'd be home watching television.
"This is good to get people out of the house and be active," she said.
Emily Merrill, 9, also sees it as a good way to pass the day. She said she was looking forward to the activities.
"But the obstacle course will be the best," she said.
Lioness Bruce, 11, saw Just Play Day as a chance to bring the community together.
"It's a good day to celebrate," she said.
Youths came from all four of St. John's schools, but when hands went up to show what school they attended, Gifft Hill School had the most hands in the air. A few youths came over from St. Thomas for Just Play Day.
Organizer Dean Doling said he expected close to 150 youths to show up for a day of sports games, entertainment and lunch. Doling, who calls Oregon home, formed the group Using Sport for Social Change to sponsor this and similar activities. There are many who contributed financially and with in-kind donations, but Doling's employer, Nike, is a main one.
Doling has fine-tuned the event over its three years. He said the first year there weren't enough activities; and the second there were too many, so he's hoping to get it just right this year.
The event runs with the help of volunteers, and Doling said about 75 were expected to participate.
"It's good to give back," Donald Becker, the tennis director at Caneel Bay Resort, said as he explained why he came out to help.
He said he sees the day as a good chance to expose children to tennis who wouldn't otherwise have the opportunity to play the sport.
"That's the goal. A little fun, a little fitness, a little knowledge," he said.
Joe Palminteri is a perennial volunteer when it comes to youth-oriented activities. With two of his own, Michael, 11, and Charlie, 9, he was on hand to help.
"If this guy from the states can come out, I can come out and support him," he said, referring to Doling.
And Serena Gagliotti summed up the reason why she was there.
"I care about where I live," she said.