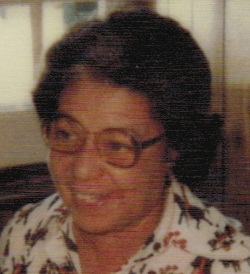 Paulina Elisa Levin Mackay Jensen, also known as "Paulina," of Mango Court Christiansted died on Sept. 16. She was 81 years old.
She is survived by her son, Herman R.; stepdaughters: Ellie S. Jensen and Anna Lisa Hinni; stepsons: Richard A., Karl W., James (David) A. and Michael L.; grandchildren: Philip, David, Elizabeth, Donna, Karl W., Robert, Richard A. Jr. and Anna Lisa Jensen, Stephen Jones, Suzette and Judith Richards, Frank Jensen, Stella and Emily Hinni and Aida Luz Belardo Faucheur; 17 great-grandchildren, and six great-great grandchildren.
She is also survived by daughters-in-law: Andrea Rivera Jensen and Sheela Jensen; son-in-law, Jack Hinni; nieces: Alma Mc Elroy, Katrina Black, Victoria Cochran and Olive Jensen; nephews: Errick Jensen, Alan L. Hansen, Leslie and Vernon Payson; special friends: Anita Moorehead, Mr. and Mrs. Gustav Harvey, Gloria Peels and Frances W. Joseph, Clareasa Nielsen, Ray Armstrong, Beatrice Wallace and Alma Roberts; cousins and other relatives: Elisa Mackay, June Brian, Thelma Brian and Josephine Born; as well as other relatives and friends too numerous to mention.
A viewing will begin at 9:30 a.m. and a funeral service at 10 a.m. on Wednesday, Sept. 28, at St. John's Episcopal Church. Interment will follow at Kingshill Cemetery.
All arrangements are by James Memorial Funeral Home Inc.