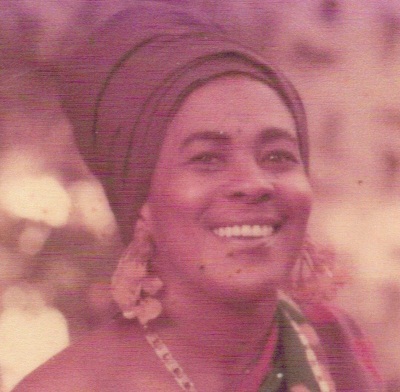 Sylvia Maria Brown, also known as "Mother Brown," of Estate St. John died on Sept. 9, at Gov. Juan F. Luis Hospital. She was 87 years old.
She is preceded in death by her mother, Constancia Bushbee Todmann; father, Henry Valdemar Todmann; and granddaughter, Nefertiti O'Bryan.
She is survived by her daughters: Velma Farrelly Dunbar and Marjorie Brown; son: Louis Brown Jr.; grandchildren: Keno Walcott, Stephanie Chalana Brown, Stephen Brown Jr, Nataki Brown, Ariel Brown Jr. and Indiana Brown; great grandchildren: Makayla Walcott, Nhaquifa Russell, Sekani Russell, Najeeb Joseph, Sanaa Joseph, Ajani Brown, Zyah Rogers, Sekani Brown, Ariel Brown III and Aurianna Nicholas; daughter-in-law, Leona H. Brown; sister, Kathleen Canton; and nieces: Lorraine James, Mona Monell, Linda Todmann, Collette James, Zelda Todmann, Michelle Hendricks, Etta Todmann Ulette Hodge, Dutchelle Drummond, La Verne Todmann, Jurene Canton and Julie Canton.
She is also survived by nephews: Orville Todmann (Taddy), Robert Todmann, Henry Todmann, Dawes Todmann Jr., Michael Todmann, Victor Todmann and Jefferey Canton; special friends: Victor Petersen, Lorraine Gibbs, MaeLouise Williams, John De Grasse and Sarah Harvey; stepchildren: Magda Brown Finch, Tony Brown and Alcess Brown; cousins and other relatives: Gwendolyn Blake, Claire Marshall, Myrle Hendricks,Winston Todmann, Walter Todmann, Alice Maynard, Gaynel Turner, Anna Phillipus and family, Warren Todmann, Debbie Tutein, Tyree Knight and Baumann family; adopted grandchildren: Melissa Frederick and J' Ana Brady; as well as other relatives and friends too numerous to mention.
The family requests that festive colors be worn.
Tributes will begin at 9 a.m. followed by a memorial service at 10 a.m. on Thursday, Sept. 22, at the Lord God of Sabaoth Lutheran Church.
All arrangements are by James Memorial Funeral Home Inc.