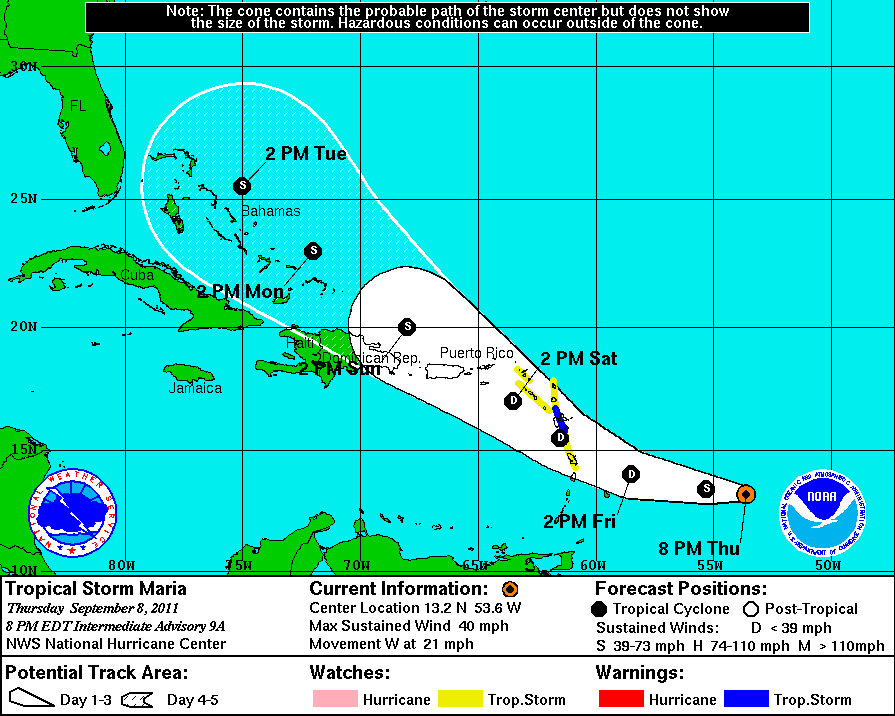 It's time to batten the hatches. Tropical Storm Maria is racing west toward the territory at 21 mph, with winds blowing at 40 mph. Tropical storm force winds extend out 175 miles to the north of Maria's center.
Maria has weakened since Wednesday and could be downgraded to a tropical depression or even a tropical wave before it reaches the territory, said Luis Rosa, a meteorologist at the National Weather Service in San Juan. However, he said a minimal tropical storm or a tropical depression were the more likely scenarios.
"It's unlikely that the storm will reach hurricane status before it reaches the islands," Rosa said.
Heavy rain along with flooding is going to be the major problem, Rosa said. While there will be wind, he said 25 mph with gusts to 40 were likely.
"Anything that's outdoors – plants and furniture – you should bring indoors," he said.
Maria, which initially looked as if it would pass to the north of the territory, shifted to a more southerly track Thursday, which means all three islands will now feel the affects of the storm. However, Rosa expects the storm to make a right turn and start heading west northwest Friday. The storm is expected to then slow down.
Rosa expects the storm to start dumping rain on St. Croix shortly after daybreak Saturday and a bit later on St. Thomas and St. John. He said the storm is so large that those in the Virgin Islands shouldn't worry about where the center is located.
As of the 8 p.m. update from the National Hurricane Center, Maria was centered at 13.2 degrees north latitude and 53.6 degrees west longitude. The barometric pressure stands at 1005 millibars.
V.I. Territorial Emergency Management Agency Director Elton Lewis urged residents to get ready.
"It's important that everyone begin to prepare for what is expected to be significant rain event," Lewis said. "Individuals and families should have essential emergency supplies on hand to last for at least three days, including dry goods and water, and should be ready to react if flooding is observed."
According to Public Works Commissioner Darryl Smalls, sandbags are available at the Department of Public Works' facilities in both the St. Croix and St. Thomas/St. John districts. They will be issued between 8 a.m. and 5 p.m. Friday. Public Works' facilities are at Anna's Hope and Estate Concordia on St. Croix, at Sub-Base in St. Thomas and at Susannaberg in St. John.
Bags and sand can also be obtained from Cotton Valley and Grove Place fire stations on St. Croix and Tutu, Fortuna and Fort Christian fire stations on St. Thomas.
The U.S. Coast Guard and the Planning and Natural Resources Department both sent out advisories urging boaters to get prepared and go to safe havens. Safe havens on all islands are open.
V.I. National Park issued a press release that indicates boaters on park moorings should vacate them and vessels seeking shelter will not be permitted to tie up at the park's finger pier or bulkhead.
All normal park operations, including services to visitors, will be suspended as of noon Friday until further notice. Facilities at beaches and the Cruz Bay Visitor Center will be closed. Visitors using park beaches are urged to use caution.
Additionally, Planning advised the public to refrain from swimming and bathing in coastal waters throughout the territory once the storm hits and until Planning completes beach water quality testing following its passing to determine if it's contaminated.
Planning further advised parents to keep children away from storm water impacted beaches as well as areas with manholes and storm water flooding. There may be an elevated health risk to anyone swimming in storm-water-impacted areas as a result of increased concentrations of bacteria. People should also be aware that storm water runoff might contain contaminants or pollutants harmful to human health and avoid areas of storm-water-runoff, such as guts, puddles, and drainage basins.
Planning urged the public to have a two-week supply of potable water for each member of the house on hand for drinking, cooking and bathing. Residents should also have a supply of disinfecting agents such as bleach on hand to disinfect water if necessary. Planning recommended six ounces of bleach for each 1,000 gallons of drinking water.
For more information on how to preparedness steps visit www.VITEMA.gov. VITEMA also encourages residents to register at www.VITEMA.gov for VI Alert to receive free real-time alerts and notifications from the National Weather Service.