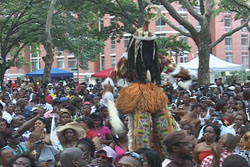 Thousands of revelers in New York City came together Sunday in Manhattan's Jackie Robinson Park to celebrate life in the U.S. Virgin Islands at the Caribbean Culture Fest, which came complete with Caribbean music artists and mocko jumbies.
The event was hosted by Virgin Islanders United, Inc., and sponsored by the V.I. Department of Tourism, Choice Wireless and Ackley Media Group.
The festival opened with a rousing rendition of the national anthem sung by Jolene, a gospel recording artist of V.I. ancestry, followed by the "Virgin Islands March."
Entertainers at the event included Calypso Rose, "the undisputed calypso queen of the world"; V.I. Soca starlet Rudy; road march champions the Awesome Spectrum Band; up-and-coming band The Sweetest Blend, playing a mix of soca with a hint of R&B; and The Top Notch Band.
Joining in the excitement and whipping up the crowd even further were a pair of mocko jumbies, the stilt dancers that are a cultural symbol of the islands.
"As always, we had a very strong turnout of Virgin Islanders who came up directly from the territory specifically for this event, as well as huge turnout of Virgin Islanders and other Caribbean nationals who live in New York," said Kevin Hughes, past president of Virgin Islanders United, who served as master of ceremonies.
"We made a point at the show and also on the radio broadcast to stress V.I. culture and pride, and we also emphasized visiting the U.S. Virgin Islands to V.I. expatriates who have been away for some time, as well as others who have never visited, in an attempt to assist in driving traffic to our territory to help stimulate our economy," Hughes added.
"We have pulled off another successful event," said Jane Parris, president of VIU. "We are honored and pleased to play a role in any way we can to promote and assist our homeland."
Guest appearances included, jazz superstar and V.I. native Dion Parson of the 21st Century Band; cable television on-air host and Black Entertainment Television executive Darin "Buttahman" Brin, who is also from the territory; former New York Caribbean radio personality Bevan Springer; and a popular Caribbean radio personality Prince Kalunda, who made a heartfelt surprise guest appearance on stage after recently sustaining severe injuries as a result of a motorcycle accident.
Membership information and more of the history of Virgin Islanders United can be obtained by calling 1-212-713-5787 or visiting VIU's website at www.virginislandersunited.org.