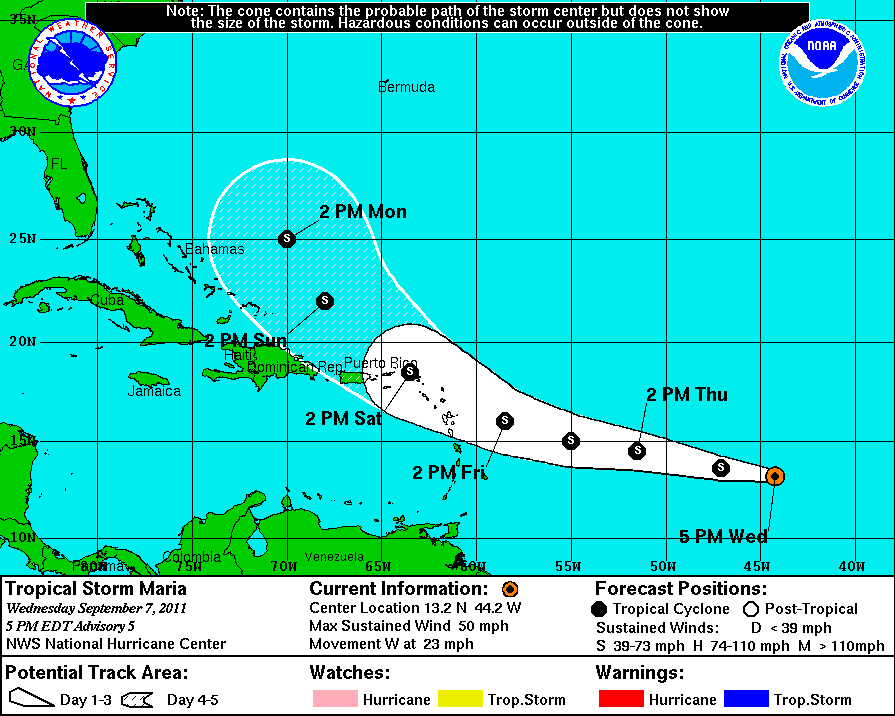 While the track and intensity could change, Tropical Storm Maria should start arriving as early as late Friday night, said Luis Rosa, a meteorologist at the National Weather Service in San Juan.
"I want to emphasize the intensity forecast is a low-confidence model. We could be talking about a minimal tropical storm or we could be talking about a hurricane," Rosa said Wednesday.
However, he said the National Hurricane Center still thinks that Maria will be a minimal tropical storm for the next five days.
Maria is racing across the Atlantic Ocean at 23 mph, a rapid speed for a tropical storm. Rosa said that if it slows down, it could intensify to hurricane status.
The center of Maria should pass 58 miles northeast of St. John around 5 p.m. Saturday. At 5 p.m. Wednesday, Maria had a wind speed of 50 mph with gusts to 65 mph. Tropical storm force winds extend outward 45 miles.
If Maria's forecast plays out as now predicted, the territory could get three to six inches of rain, Rosa said.
"We are in a full state of preparedness for what we expect will be a significant amount of rain associated with the passage of this tropical storm on Saturday night," Gov. John deJongh Jr. said in a press release.
As of the 5 p.m. update, Maria was located 1,200 miles east of the Leeward Islands. Racing west at a speed of 23 mph, Maria is centered at 13.2 degrees north latitude and 44.2 degrees west longitude. The barometric pressure stands at 1002 millibars.
Maria was named at the 11 a.m. update Wednesday, having grown from Tuesday's Tropical Depression 14.
Residents should also expect some rain and thunder Thursday from a tropical wave that should start after midnight.
"It should start to clear out in the afternoon," Rosa said.
At V.I. Coral Reef National Monument on St. John, Hurricane Hole safe haven will open at noon Thursday. Boaters have pre-registered for the spaces along the hurricane chain.
"As always, please help each other to secure your and their boats to best
prevent any conflicts and protect the resources of this special place," said Rafe Boulon, chief of resource management at the park.
He said the park will notify boaters at to when they must remove their vessels from Hurricane Hole.
Safe havens on St. Thomas are Benner Bay, Mandahl Pond and Flamingo Bay. On St. Croix, Salt River is the designated safe haven. Planning and Natural Resources spokesman Jamal Nielsen said entry into those safe havens is on a first-come, first-served basis.
Planning also advised boaters not to remain on their vessels during a storm.
The U.S. Coast Guard sent out an advisory to mariners letting them know they need to plan for Maria, spokesman Ricardo Castrodad said.
At 8 a.m. Thursday, the Coast Guard will move to what it calls Port Condition Whiskey. Castrodad said this means vessel captains should review their schedules and plan to secure their vessels. Additionally, captains with vessels over 200 gross tons should leave port or ask the port captain in writing for permission if they plan to stay in port during Maria.
Planning in a press release reminded contractors, developers and home builders to immediately maintain and implement additional erosion and sediment control practices at all areas where property is cleared, graded, filled, or otherwise disturbed.
Additionally, Planning advised that all construction materials and equipment must be removed from sites or be properly secured. This includes all items likely to become airborne objects that may cause damage to the property or adjacent parcels.
V.I. Territorial Emergency Management Agency Director Elton Lewis said the agency has initiated contact with the Federal Emergency Management Agency, which normally pre-positions an Incident Management Assistance Team in the territory to assist in VITEMA's response effort.
VITEMA encouraged people to sign up for VI Alert, a free service that provides emergency weather alerts via text message, e-mail and fax.
"We are currently near the peak of the season, so we are expecting to see more activity in the Atlantic," Lewis said. "It is extremely important that the community continue to monitor news for updated weather information and to begin to assess their level of preparedness."
Visit www.VITEMA.gov and click on VI Alert to register.