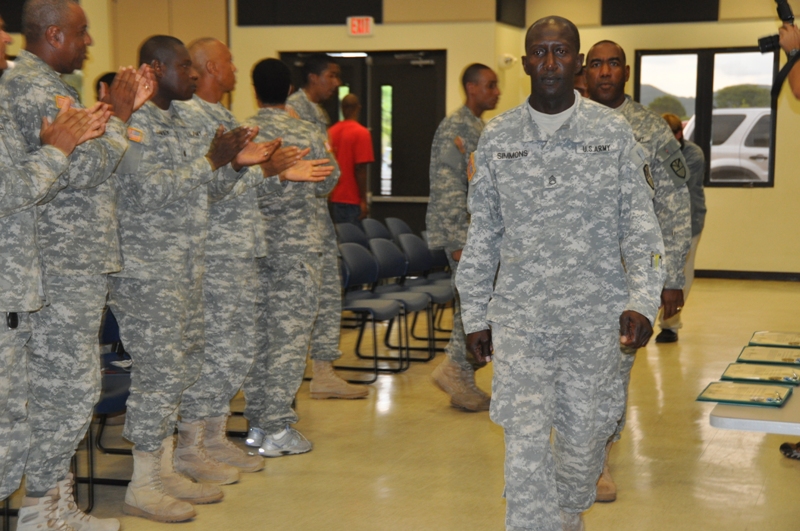 More than a hundred people gathered at UVI's St. Croix campus Monday night to say goodbye to the 39 V.I. National Guard soldiers who are deploying to Afghanistan on Thursday.
The tears flowed throughout the ceremony as parents, siblings, spouses and children of members of the 104th Rapid Aerostat Initial Deployment (RAID) team, watched their loved ones sit stoically as Guard leaders bid them farewell.
The 104th RAID team, comprised of guardsmen from St. Thomas and St. Croix, will provide essential situational awareness for improved security and daily operations in Afghanistan in support of Operation New Dawn. These types of teams are currently deployed to both war zones to safeguard forward operating bases, improve surveillance, and accelerate response to evolving threats.
After brief opening remarks were given, the deploying soldiers walked into the crowded room of guests, who stood up and welcomed them to a thunderous round of applause.
Two guardsmen, Master Sgt. Carol Morris and Spc. Tamisha Lambert, traveled to the deployment site early and were unable to attend but did have video messages for their loved ones and remaining guardsmen.
"As a 1st Sgt., the life of 35 young soldiers wears on my shoulders … all of them have parents, and I'm not only responsible to the soldiers, but the husbands, wives, children, and parents," Morris said.
The unit's commanding officer, 1st Lt. Leslie Pemberton gave an emotional speech to family members and his deploying unit. He said that he understood the difficulties that parents are faced with and realized that no parent wants their child going to war but explained that he was confident in his unit's ability to do an outstanding job and come home safely.
"They will not turn away from the call of duty. Deep inside they know it makes them professional soldiers, and we will carry out our duty in Afghanistan with determination," Pemberton said.
As each member of the official party gave a speech, emotions began to run high. As one woman cried fitfully, her young toddler kept wiping away her tears with his hand. A man sitting across the aisle dabbed his eyes with his shirt sleeve.
By the time the VING's adjutant general, Maj. Gen. Renaldo Rivera, said his goodbye, the sounds of blowing noses and soft cries could be heard throughout the gym.
Rivera had the noncommissioned officers stand up and informed them that they are in charge of leading the younger members, who then stood and were given orders to listen to their guidance.
Finally, he addressed Pemberton with a tearful plea: "I'm charging you with 39 that are going and 39 that have to come back," he cried, and added "Yes I'm emotional when it comes to my troops, but we are a very young Guard and over 95% of us have deployed in these wars; that's something to be proud of."
Sen. Alicia Hansen got the most tears, when she took to the podium and gave a sermon-like speech about facing the possibility of losing a soldier on deployment.
"When you signed up you knew you may go and you may not come back, but you signed up anyway! I'm asking God to pour his blood on you and bring you back home!" she screamed.
A slide show of RAID team members was played to patriotic music, showing them gearing up for deployment and training.
Over the last six months the unit has trained on over 100 warrior tasks, battle drills, and mission-specific training. Several soldiers were even called up in front of the audience to receive Army Achievement Medals for their outstanding training.
After a short yellow ribbon presentation, each soldier walked to their loved ones and pinned the ribbons on their clothes in a symbolic gesture. Family members are supposed to wear the ribbons to show that they are awaiting the safe return of their soldiers.
Vaselie Freeman couldn't stop crying during the ceremony. She has to say goodbye to her 21-year-old son, who lives with her.
"I'm kind of scared, and I just hope he will be safe. He even has a baby on the way," she said.
One soldier, Pvt. Craig Velasquez, smiled broadly throughout the ceremony. When asked if he was nervous for the deployment he said, "No, I'm excited and prepared."
The 104th RAID team will depart from the territory for Fort Bliss, Texas, on Thursday at 6 a.m. from Henry Rohlsen Aiport on St. Croix. Unit members from St. Thomas will depart at 6:30 a.m. from the Cyril King Airport.