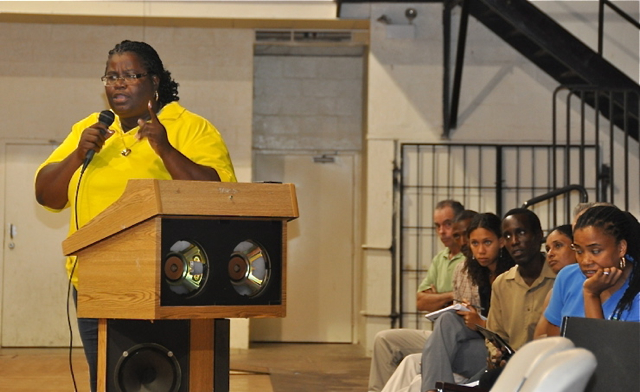 Citizens voiced their anger to representatives of the U.S. Environmental Protection Agency at two public meetings held Thursday to address the results of a study that they felt grossly underrepresented the health danger of air toxins.
Carl Axel Lederberg, director of the EPA's Caribbean Division, said, "I expected concerns because of the incidents throughout the year, but I didn't expect it to be this way."
Anger poured from community members who were upset by the results of a four-month study analyzing the air quality and pollution near the Hovensa oil refinery and finding it did not pose a significant health risk to the public.
The study of volatile organic compounds (VOCs) was carried out from February to June.
Meetings to explain the study were held Thursday from 2 to 4 p.m. at Estate Profit Head Start Community Center and from 6 to 8 p.m. at the Central High School Gymnasium.
When it was time for public comments at the end of the presentations, audience members pounded the EPA officials with questions, many of them about an incident in May that forced schools to close and sent people to the hospital.
At one point at the Estate Profit session, an audience member stood and got in the face of the EPA representatives demanding that action be taken for residents in the surrounding areas. He then insinuated their lack of action was racially motivated.
"Just 'cause we are black, we no fools, we read books," he yelled, then quickly walked off without waiting for a response.
The on-scene coordinator for the EPA, Cris D'Onofrio explained calmly that they were doing everything they could to find an answer. He said he specifically asked to be on St. Croix for the study and remains vigilant and committed to finding answers.
Sen. Alicia "Chucky" Hansen, then stood up and said, "Let me tell you, the problem with that brother is that he's very upset. He should be upset, not you! My people have to live with it and the only one is supposed to be angry is us – not you!"
Her remark was greeted with hollers and applause from the crowd.
At the Central High School meeting, a woman explained that she has only lived in St. Croix for two years and was extremely disturbed by what she saw in the community. When the Legislature held a meeting about the school shutdown incident, she said she had never seen so many people show up with such concern because they were at a loss about what to do.
"People don't understand why their bodies are telling them something completely different than your numbers, which show such low levels," she said, to an applauding crowd.
The EPA officials apologized, admitting they needed to do better, especially to address the health concerns that seem to directly affect those with immune systems that are compromised.
Senator Terrance "Positive" Nelson also received a thunderous applause at Central High School meeting, when he got up and said, "[It seems] the EPA has taken a laid back approach because of a predominately black population, and this is a concern to my constituents."
Mark Maddaloni, an EPA toxicologist for Region 2, nodded his head and said "It's true, that communities of color have suffered disproportionately, and I'm trying to address these issues."
Another point of concern for the community and a complaint that kept arising during the sessions was the lack of cancer statistics in the territory. Several people believe St. Croix has a disproportionate number of cancer patients, but no studies had been done to confirm it.
One audience member, Naomi E. Joseph, stood up at the Central High School meeting to explain that she was diagnosed at age 40 with asthma and also has kidney cancer.
"Only Jesus Christ himself could tell me that it's not from Hovensa," she said, angrily.
Delegate to Congress Donna M. Christensen tried to defuse the frustration by explaining at both meetings that she is working with the Center for Disease Control and the University of the Virgin Islands to conduct a health assessment to examine the types of cancer in St. Croix.
Nobody from the Department of Health attended either meeting, creating even more frustration with the crowd.
One woman in the audience, Maria Morales, pointed out that the EPA isn't responsible for the pollution, but it gets the brunt of the frustrations from people who have lived for years with it.
"They did not create the problem. We let the government do this. Our governor should have been here – it was the government who created the problem and they need to do something with Hovensa!"
The purpose of the study was to assess and reduce the pollution in St. Croix and to address concerns regarding long- and short-term health risks near Hovensa. The Virgin Islands Department of Natural Resources installed monitoring equipment at Central High School, Bethlehem Village, and the Federal Aviation Administration's facilities in Mannings Bay. One sample every six days was taken for a minimum of 15 samples at each location, totaling 48 samples in all.
More than 50 VOCs were tested, but primary focus was on benzene and butadiene, 1,3, two chemicals known to cause cancer and other respiratory ailments. All sampled pollutants fell below the EPA screening values for short- and long-term non-carcinogenic health effects and were below the threshold for cancer screening levels.
The study also tried understand the fumes that occured during the May 9 and 10 episodes, causing schools to shut down, but couldn't find a quantitative reason other than sulfur dioxide, a known emission.
Mark Maddaloni, an EPA toxicologist for Region 2, admitted he was completely surprised at the strong odor emitted on St. Croix.
"I came to the island for the first time last night and got hit with a wave of stench. I smelled it then and this afternoon. There are issues here, and they have an impact on well-being. Once the well-being is impacted, it does have an effect on overall health," he said.
Several people also raised concerns about Hovensa's recent release of hydrogen cyanide and ammonia. Last Friday, Hovensa reported to the EPA that in June, 2,648 pounds of hydrogen cyanide and 237 pounds of ammonia were released into the air from the fluid catalytic cracking unit.
D'Onofrio explained that one step EPA is taking to reduce the amount of pollution is a entering into a consent decree with Hovensa, rquiring the company to reduce its emissions. In fact, the sonsent decree was mentioned in a letter to the Department of Panning and Natural Resources from Hovensa stating that since Aug. 20, 32 tons of sulfur dioxide was released from the East Incinerator stack. Apparently the company has agreed to install a second, redundant tail-gas treating unit by Dec. 14, 2014, which y says will greatly reduce emissions.
Besides conducting the study, EPA officials assured the crowd, they plan to be more involved in the process of reducing pollution and want to get the community involved in creating a study that addresses some of the local concerns. D'Onofrio said that they would try to schedule a meeting in November.