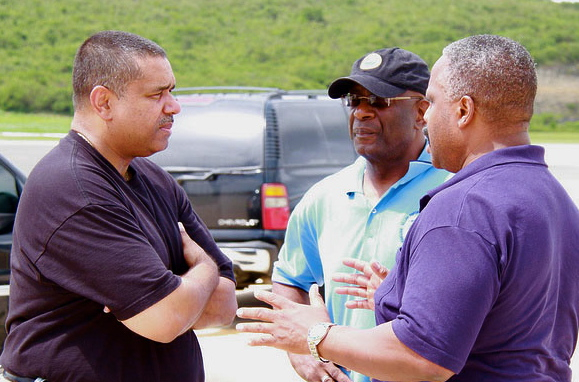 In a phone-in press conference focused mainly on the impending impacts of Hurricane Irene on mainland areas, Federal Emergency Management Agency Director Craig Fugate mentioned the passage of then Tropical Storm Irene through the Virgin Islands only briefly.
"We are currently working with the Virgin Islands on their assessment," he said, referring to a damage evaluation.
In a later press release, the V.I. Territorial Emergency Management Agency characterized the damage to the territory from Tropical Storm Irene as moderate.
"We are still receiving damage reports. However, it appears the territory may not be requesting a presidential disaster declaration," VITEMA Director Elton Lewis said in a news release. "We had a number of poles down, widespread power outages and storm-related debris on most roads. But for now, it is not enough to meet FEMA's threshold for a disaster declaration."
As of Tuesday, all V.I. Water and Power Authority feeders across the territory were re-energized, but a few areas remained without power, Lewis said.
According to the press release, WAPA has a water shortage on St. Thomas. Because of this problem, it has implemented a water conservation schedule.
Road, except for a few side roads, are cleared and passable, the press release indicated.
In news from the U.S. Coast Guard, spokesman Ricardo Castrodad said all ports across the territory are open as of Tuesday afternoon. He said Frederiksted and Christiansted opened Tuesday while the others were open Monday.
VITEMA indicated that FEMA crews in the territory for Tropical Storm Irene have left for the states, where their help is needed as Hurricane Irene approaches.
While many eyes are on Irene, now with winds of 90 mph and headed straight through the Bahamas, Virgin Islands residents had good news.
"It looks like you won't get any tropical waves or tropical storms for the next eight to 10 days," meteorologist Walter Snell at the National Weather Service in San Juan, said Tuesday afternoon.
It's still going to be dreary through Friday as Irene's lingering clouds, rain and wind slowly make their way out of the area. St. Thomas and St. John could experience winds between 20 and 26 mph while St. Croix could get winds of 14 to 22 mph.
"But the wind should start subsiding as we speak," Snell said.
Light rain fell occasionally on Tuesday, and some locations were windy. Snell said Tuesday morning 30 mph gusts were felt on both St. Thomas and St. Croix. Weather Station Zephyr at Ajax Peak, St. John, had a 31 mph gust at 5:30 a.m.
A tropical wave now at 22.3 degrees north latitude and 38.7 degrees west longitude is already north of the territory's latitude and will pose no threat. Another wave at 13 degrees north latitude and 21.1 degrees west longitude looks like it will head to the northwest and dissipate, Snell said. This means it won't be a problem for the territory.
Hurricane season runs until Nov. 31, with the peak coming near the middle of September. The territory's two worst recent hurricanes – Hugo in 1989 and Marilyn in 1995 – both occurred in mid-September