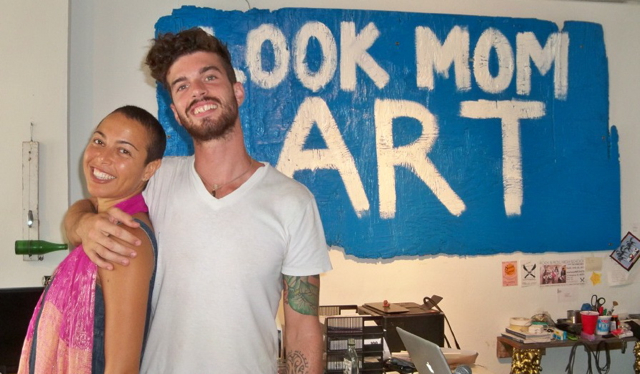 MacheteMACHETE in Christiansted is not the typical Caribbean art gallery. You won't find paintings of beaches, birds or bougainvillea. What you will find is contemporary art, music, workshops, a library, and pot luck dinners.
The name isn't even related to the machetes islanders use to clear brush .
Thomas Shelley, director of the gallery, says he came up with the name while living and working in Brooklyn, New York. He says there were a slew of assaults by a machete-wielding person in South Williamsburg, New York. The area has row houses and warehouses where artists, musicians and scenesters find affordable rent. He says the media never picked up the story so he blogged about it on MacheteMACHETE. He added no one was ever seriously hurt by the assailant.
Shelley says MacheteMACHETE started as a site where young contemporary art photographers could have a presence on the web. The physical gallery space opened on Company Street in the courtyard behind the ReMAX building last December.
Shelley moved to St. Croix in 2008 with Crucian Alisha Westerman, whom he met in New York. She is the daughter of Llewellyn Westerman, well-known local singer and Buck Island charter boat operator. Alisha Westerman, a singer, songwriter and guitar player, provides musical entertainment and is the gallery programmer. She also creates handmade specialty chocolates, but that is another story.
Shelley says he came to St. Croix knowing he would be able to infuse his art here somehow. He has a bachelor's of fine arts degree from Rutgers University with a concentration in photography, and he worked as a preparator for the Paula Coper Gallery in New York. He is a web designer and graphic artist. Westerman says Shelley loves to collect cast off stuff and he is talented at creating art from his findings. He is currently creating guitars made from old gallon tins used for gas and cooking oil.
The gallery generally features openings of young artists on Art Walk Thursdays. Shelley says they are very pleased with the turn outs for those shows. Two young local photographers recently featured by the gallery were Nicole Canegata and Leah Bernhard.
"The artists are hand picked," Shelley says. "And I am very very picky."
In a few months the gallery will hold a Caribbean art contest. Juried entrants will have to be from the U.S. Virgin Islands, and the winner will get a solo show at MacheteMACHETE.
"I daydreamed about this gallery and the dreams have all come true," Shelley says. "We have had a lot of support from the community too."
The gallery has summer hours by appointment only. For hours, shows and events go to www.machetemachete.com