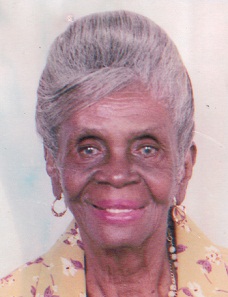 Eugenie Leonie Evans of Estate Monbijou Sacred Heart, past president and member for 60 years, died on Saturday, July 9, at her residence. She was 96 years old.
She is survived by her children: Severina Evans Plaskett, Gerald F. Evans Sr., Malcom A. Evans Jr., Andrew D. Evans and Isabell Evans Zapletal; daughters-in-law: Asta M. Evans, Providencia Evans and Joanna Evans; nephew, Raphael Hall; niece, Thelma Wilson; grandchildren: Valencia Plaskett Andrews, Victor Plaskett Jr., Geoffrey Plaskett, Kevin Plaskett, Vonetta Norman Esq., Patricia Maxine Plaskett Wells, Gerald F. Evans Jr., Gregory A. Evans, Gary F. Evans, Jonathan Evans, Zdenek Zapletal, Kristisha Zapletal, Kim Evans, Elise Evans, Sylvia Santos, Eugenie Santos, Angela Santos Morales and Carmen Santos Lang; six step- grandchildren; 30 great-grandchildren; and 21 great-great grandchildren.
She is also survived by five great nephews and nieces; 24 great-great nephews and nieces; 25 great-great-great nephews and nieces; the management and staff of Continuum Care Inc., and the management and staff of La Paz Hospice Care Inc; special friends: American Legion Post 85 Women's Auxiliary, Brunilda, Josephina and Providencia Ramos, Millie de Chabert, Mr. and Mrs. Joseph Graham, the Giddings family, Joy Anne Hodge, Fr. John Mc Louchlin, Fr. Alfred Bradley, Brenda Petrus-Bastian, and Mr. and Mrs. Charles Vallarde; as well as other relatives and friends too numerous to mention.
There will be a viewing held at 9:30 a.m. and a funeral service at 10:30 a.m. on Wednesday, July 20, at Holy Cross Catholic Church. Interment will follow at the Christiansted Cemetery.
All arrangements are by James Memorial Funeral Home Inc.