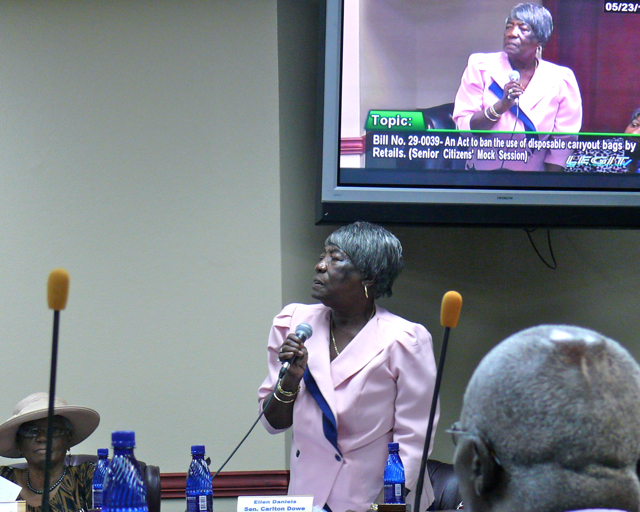 The debate over whether to ban plastic grocery bags heated up Monday as V.I. seniors came to the Legislature in Frederiksted Monday, replacing each of the 15 senators and the legislative staff for the annual Mock Senior Session, which mixed raucous fun with a sober discussion of V.I. issues.
The hypothetical "bill" the seniors debated would ban plastic grocery bags, with stores liable for fines of $100 and up if they continue to use plastic bags after the ban is in place.
With a few exceptions, the real senators and staff stood nearby, helping their replacements deal with the mechanics of introducing bills and amendments and making motions.
The senior "senators" were broadly supportive of the idea of banning plastic grocery bags.
"I attempted to bring this bill to the floor two years ago but was preempted," said Georgina Belk, playing the role of Sen. Nereida "Nellie" Rivera-O'Reilly. "I would like to see this bill brought up for real and not just in mock session," Belk said on the actual senator's behalf.
While some may worry about customer reaction to stores making them bring their own bags, Francesca Lake, playing the role of Sen. Terrence "Positive" Nelson, said that "chains like Whole Foods do so now."
"But we must make sure this bill does not cause an increase in the cost of food, which is already very expensive," Lake said.
Though not opposed to getting rid of plastic bags, several "senators" questioned whether it should be a high priority.
"I think there are more pressing issues facing seniors," said Ellen Daniels, in the role of Sen. Carlton "Ital" Dowe. Daniels suggested an amendment in the nature of a substitute to instead normalize street addresses to make it easier for emergency personnel to locate seniors quickly when they call 911 and to pave streets in neighborhoods in which seniors live.
Some took their moment before the Senate cameras to sound off on a personal concern.
Regina Joseph, taking the place of Sen. Sammuel Sanes, found fault with the contractors cutting the grass on the shoulders of the territory's roads, saying they cut the grass but leave trash where it lies. There needs to be more vigilance by management over the crews, Joseph said.
No one talked about senior abuse, bemoaned Jean Smalls, acting as Sen. Celestino White Sr., at the ended of the hearing. "Yes we have senior abuse in the Virgin Islands," Smalls said. "It is oftentimes swept under the rug. But there is financial abuse, where caregivers or the children themselves take money from their parents. There is verbal abuse, harsh words, and there is also physical abuse," Smalls said.
After approving an amendment to allocate 25 percent of any fines levied to pay for education about the dangers of plastic grocery bags, the "Senate" passed the mock bill unanimously.
The annual mock Senate is sponsored by the Department of Human Services in conjunction with the Legislature. It alternates between St. Thomas and St. Croix.
Below is a listing of seniors participating this year and their respective roles:
— Keith Callwood – Craig Barshinger;
— Ellen Daniels – Carlton "Ital" Dowe;
— Janet Phillips – Alicia "Chucky" Hansen;
— Joseph Kline Jr. – Louis Hill;
— Wintropp Hector – Neville James;
— Helen Hart – Shawn-Michael Malone;
— Francesca Lake – Terrence "Positive" Nelson;
— Georgina Belk – Nereida "Nellie" Rivera-O'Reilly;
— Aloma Peters – Usie Richards;
— Regina Joseph – Sammuel Sanes;
— Paul Simmonds – Ronald Russell;
— Pastor Roy Joseph – Patrick Sprauve;
— Jean Smalls – Celestino White Sr.;
— Judith Steele – Alvin Williams;
— Rubye Tinsdale-Todman – Janette Millin-Young;
— Veronica Albonza – Legal Counsel;
— Darie Thomas – journal/timekeeper;
— Alpha Stevens – Sergeant at Arms;
— Joseph Gilbert – Chaplain;
— Leonardo Joshua – Page.