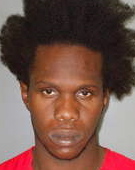 After only two hours of deliberation, a jury found murder suspect Devon Auriel Frett guilty on all charges Friday morning in Magistrate's Court in St. Thomas.
Frett, 24, was on trial all week in connection with the Oct. 26, 2008 murder of V.I. law clerk Gabriel Lerner.
Lerner, who was a clerk for Superior Court Judge Brenda Hollar, was a 27-year-old Georgetown University law school graduate who had recently passed the V.I. bar. On the day he was killed he was on his way to a Baha'i Bible study group at Lindqvist Beach.
Prosecutors argued that Frett, a citizen of the British Virgin Islands, along with John Jared Southwell, 19, kidnapped Lerner after he offered the two men a ride, then robbed him, put him in the trunk of his own car, and killed him in a remote area on the west end of the island.
Two days later police found the pair driving Lerner's vehicle and chased them up Crown Mountain Road. After crashing into a police vehicle at a roadblock, the two men fled on foot into thick bushes and were captured hours later after a search involving ground, air and canine units.
The defendant's face showed no emotion as the jury of 12 men and women convicted him of one count of first-degree murder, one count of assault, three counts of illegal possession of a firearm and one count of reckless endangerment.
Southwell's testimony pointing the finger at Frett was crucial to the conviction. During the trial, which lasted three days, Frett claimed that Southwell lied, and he disavowed the incriminating statement which he gave to the police two days after the crime.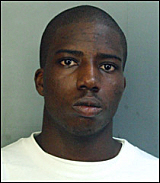 Southwell pleaded guilty last September to one count each of second-degree murder and first-degree assault-robbery, and is currently serving a 20-year prison sentence.
After the trial ended, lead prosecutor Renee Gumbs-Carty said she was glad justice had been served.
"I'm happy with the verdict," she said. "It was expected. And I'm happy for Gabriel's family, who now have justice."
Lerner's family, who hail from Wisconsin, were present earlier in the trial but were not present for the verdict Friday. Gumbs-Carty said she had contacted them and informed them of the outcome.
In a statement issued shortly after the verdicts were read, Police Commissioner Novelle E. Francis commended the work of the various Virgin Islands Police Department units and individuals who worked as a team to gather evidence, including Major Crime, Criminal Investigation and Forensics, forensic technicians, ballistic and firearm experts, the Special Operations Bureau and patrol officers.
The commissioner noted that during the investigation the officers had to fit pieces of evidence together, like a puzzle, into one seamless scenario that ultimately resulted in Frett's conviction. He also commended the Department of Justice prosecuting team for the many hours spent preparing for and trying this case.
"I am extremely elated with the hard work, diligence and commitment of all who were involved," Francis said.
Defense attorney Michael Joseph was diappointed with the guilty verdicts, and said his client was caught in a "catch-22" situation whereby the suppression of his police statement was nullified when he opted to take the stand in his own defense.
The statement, which was suppressed due to Miranda violations, was allowed during the prosecution's cross-examination of Frett, under rules regarding prior inconsistent statements. In Frett's testimony, he said he had no role whatsoever in the murder, but the statement put him squarely in the center of the crime.
"In these circumstances, I don't think the jury had a choice but to convict," Joseph said. He added that he plans to appeal the verdict on unspecified constitutional grounds.
Southwell's mother, Headdie Henry, appeared as a witness in the trial and was also present for the verdict. She said she was pleased with the outcome and felt the guilty verdicts brought closure to three families.
"Now there's justice for the Lerner family, for my family and for the Superior Court family," she said. "Now I can start to heal."
Henry said her son was led astray by Frett, whom she described as a "beast."
"My son was not a leader, he was a follower who got caught up with an older man," she said. "But my son took responsibility for his actions. You don't find many people doing that anymore."
Frett faces a maximum sentence of life in prison without parole for the murder charge, and life with parole for the kidnapping charge. The other charges carry lesser sentences. Judge Harold Willocks did not set a sentencing date for Frett, pending notice of appeal.