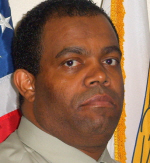 VIPD forensic technician Reynold De Souza is one of only a dozen students out of thousands of applicants who have been selected to train at the National Firearms Examiner Academy of the Bureau of Alcohol, Tobacco, Firearms and Explosives (ATF), Police Commissioner Novelle E. Francis Jr. announced Friday.
De Souza will begin training Monday in a 17-week course at ATF's Forensic Science Laboratory near Washington D.C., in Ammendale, Maryland. He was accepted in October, and has spent the last three months in intensive pre-academy study to prepare for the rigorous program.
Applicants for the program come from police departments throughout the United States and its territories.
De Souza is a former VIPD police officer who left the department in 1995 to follow his dream of obtaining a degree in criminology and crime scene technology. After receiving his degrees De Souza returned to the VIPD as a civilian and was assigned to work and train with Maurice Cooper, the department's firearm examiner.
Following the instructional course, De Souza will return to the VIPD to continue an additional four months of training. This phase includes completing an academy-approved research project and several simulated firearms and tool mark cases prepared by agency instructors.
Commissioner Francis expressed his admiration for De Souza's accomplishments.
"De Souza's accomplishments are a source of great pride for the Virgin Islands Police Department and the entire community. His training will be invaluable to solving crimes and providing the expert testimony in court cases to bring criminals to justice," Francis said.