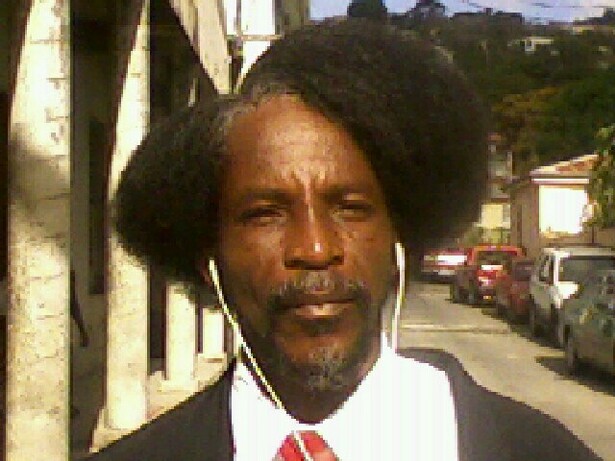 Lucien A. Lee, Pineapple of St. Thomas died on Dec. 6, at Roy L. Schneider Medical Center. He was 50 years old.
He is survived by his mother, Estrid "Aunt Jemima" Yearwood; father, Neville Lee; stepmother, Mary Lee; brothers: Rev. Hilair Peters Jr., Michael Peters, Delroy "Ninja" Nurse, Delvin "Ben" Nurse, and James and Kelvin Lee; sisters: Laura Peters, Debra "Sugar Dee" Nurse, Jacqueline Lee-Frett, Phoma Lee-Riley, Joycelyn Lee-Bobb, Jaslyn Lee and Rhonda Lee-Bynum; adopted sister, Eunice Lee; stepsisters: Karen Francis and Adona Francis-Duggins ; stepbrothers: Graham and Julian Francis; aunts: Marilyn Lee-Gumbs, Marion Lee-O'Reilly, Aurelia Civil Bailey, Louise Sealey-James, Rosalia Sackey, Pauline Sackey-Boynes; and uncles: James "Yankee" Yearwwod, Rexford and Roosevelt Lee, James Civil and Victor Cornelius.
He is also survived by nieces: Kimberly Peters, Denise, Britney and Shamara Nurse, Talisa DeSouza, Akeyiah Charles, Desiree, Chanty, Ruth and Kenisha Hodge, Cyla and Chanice Smith, Otesha and Onique Petersen, Rosa, Jasmine and Kevonna Lee, Kenisha Riley, Kira Simms and Jamila Bynum; and nephews: Sergio and Sermane Feliciano, Desmond and Shane Peters, Hector and Edwaldo Oliveiri, Delroy and Isiah Nurse, Delvin and Tony Nurse, Michael, Christopher, Tyree and Tyshaun Peters, Kaijah Charles, Marion Thomas, Roshawn Murraine Jr., Charles Smith Jr., Jevern Phillip, Omari Petersen, Ivan Hobson Jr., James Lee Jr., James Riley, Kai and Kiron Simms, Jamar, Kelvin Jr. and Keyano Lee.
Other survivors include: sisters-in-law: Rochelle Lee, Kishwana Charles and Linda Peters; great uncle, Albert Harrison; brothers-in-law: Morgan Frett, James Bobb and Jim Bynum; godchildren: Cequana Smith and Cequan Browne; 24 great nieces; special friend, Kim "Impress" Crawford; special cousins: Lorraine, Laura and Lavern Bess, and Horace and Zelda Peets; special friends: Dready, Tasfer and Shayna Martin, Karima Browne, Percival Nurse Jr., Percy Nurse, the Robles, Feliciano and Charleswell families, Exodus, Sylvester "James," Dahlia, Percival and Careem "Duce" Ambrose; close family friends: the Boyce and Elskoe families, and James Hazelwood; as well as many other relatives and friends too numerous to mention.
A first viewing will be held from 3-5 pm. on Sunday, Dec. 19, at Davis Funeral Home Chapel. A second viewing will be held at 8:30 a.m. followed by a funeral service at 10 a.m. on Monday, Dec. 20, at Philadelphia Seventh-day Adventist Church. Interment will be at Western Cemetery No. 3.
All arrangements are by Davis Funeral Home, 774-1464.