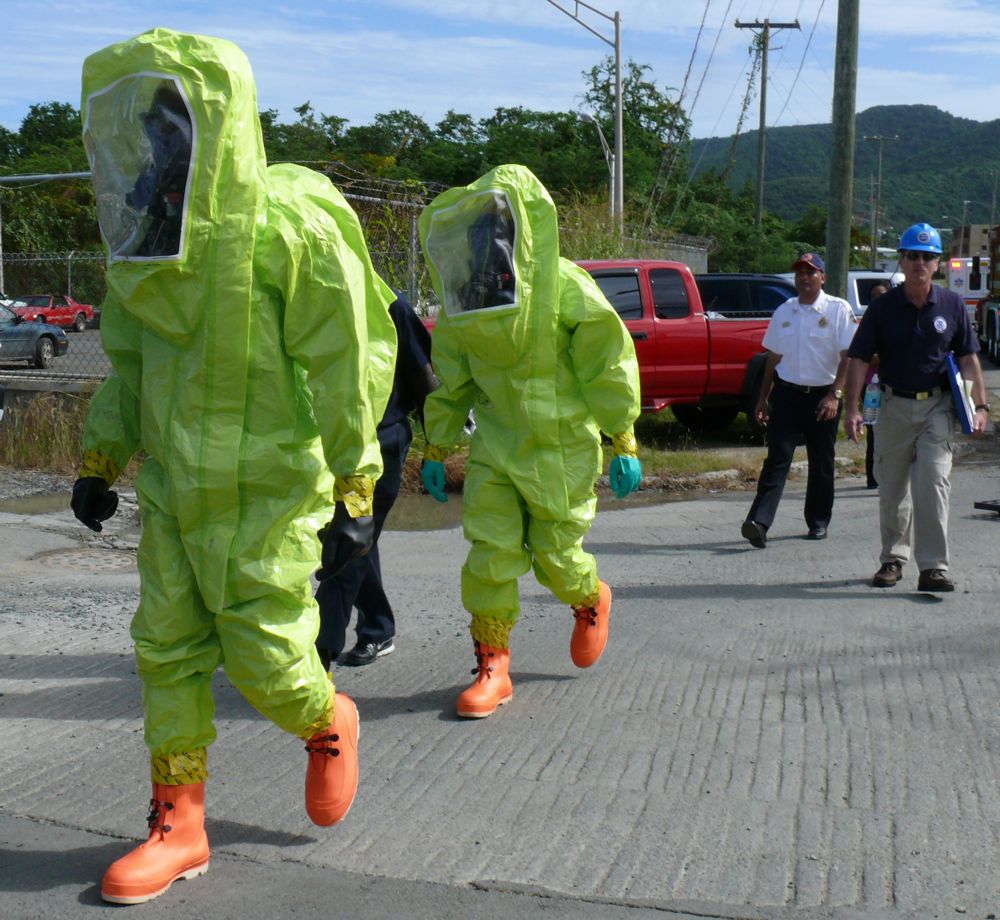 Chemical spills and terrorist bomb attacks on WAPA facilities were just two of the fictitious scenarios played out Thursday as the V.I. Territorial Emergency Management Agency and U.S. Department of Homeland Security sponsored a territory-wide exercise to test local first responder agencies.
On St. Croix, the full-scale exercise kicked off around noon, with a mock chemical spill at WAPA's plant in Estate Richmond. WAPA called 911 reporting the fictitious incident around noon.
"What you see is a simulated spill where three individuals were transporting a 500-gallon tank of chlorine and spilling it so that those three are splashed by the liquid and injured," said Ira Bowry, WAPA's St. Croix plant operations manager and incident commander for Thursday's exercise.
While this mock incident was going on, the V.I. Port Authority was dealing with a mock plane crash at Henry E. Rohlsen Airport, said Bowry. Fire fighters responded by 12:09, according to Bowry, could not act until the V.I. Fire Service's HAZMAT Unit arrived with protective gear and assessed the situation. Nearly an hour later, the hazmat team leaders arrived, but had to wait a bit longer for their equipment to arrive.
"We were told there was another exercise at the airport and a real-life situation on the island today, keeping them busy," Bowry said.
VITEMA's outgoing Director Mark Walters confirmed Thursday afternoon that around the same time as WAPA was calling 911, the V.I. Port Authority was calling in a mock plane crash, requiring a massive response from multiple agencies, including the V.I. Fire Services' hazmat team. Having a second incident helps evaluate how—and how well—responders deal with serious complications and obstacles, said Walters
Meanwhile, by coincidence, there was a real incident at the Hovensa refinery in which oil sprayed into the air and contaminated a small area inside the plant's boundaries, he said.
Once the hazmat team and its equipment were on site at WAPA, they set up a staging area for decontamination, donned their breathing apparatus and special suits, and went into the plant to evacuate the "injured," decontaminate and begin treating them.
Over on St. Thomas, "terrorists" planted two imaginary bombs at WAPA's power plant. Officials pretended they exploded at about 9:45 a.m., leaving an employee trapped in a tower and a number of others injured. This triggered a response from the hazmat unit, Emergency Medical Services and police.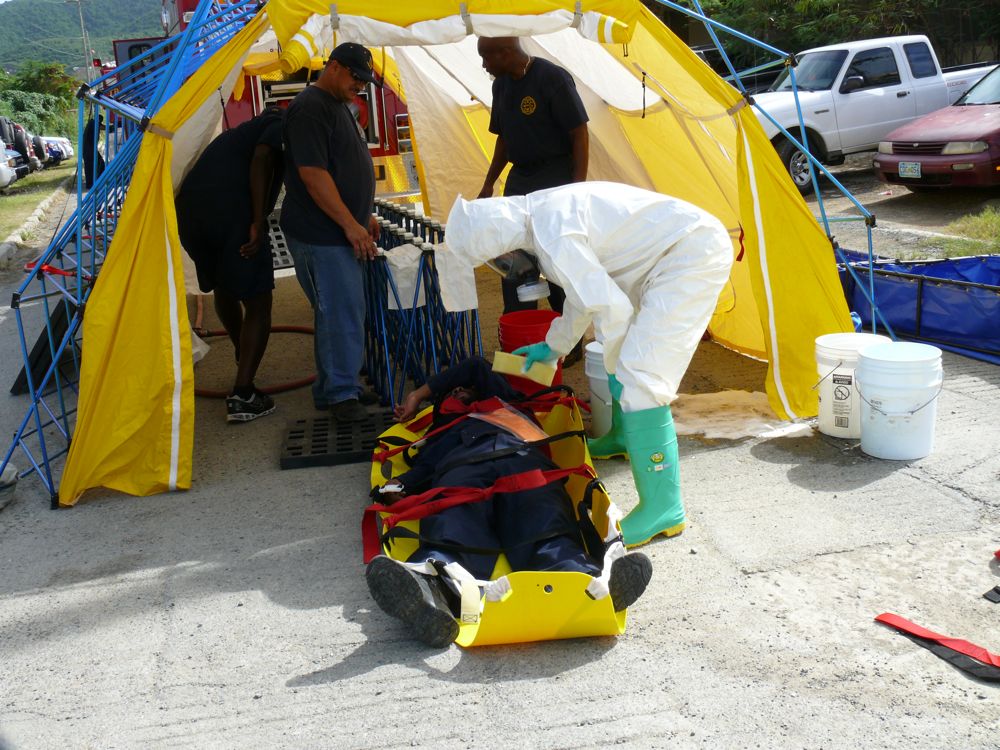 As part of the scenario, the terrorists were suspected of establishing labs at various venues, including Water Island, which triggered the V.I. National Guard's 23rd Civil Support Team.
According to VITEMA, the test focused on a number of factors, including emergency triage and pre-hospital treatment, communication, activating an Emergency Operations Center, and onsite hazmat incident management, among others
Results of the test will not be known right away, Walters said. "We have evaluators out in the field, but until we have their report we won't really know how the exercise went," he said.