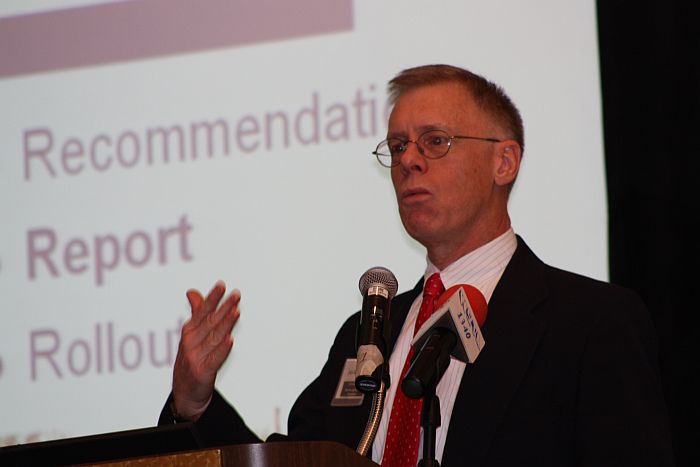 The global economic recession has recently offered state and territorial governments a unique opportunity for change, and local leaders said Tuesday that the best way to make the most of it is to figure out how to build on what the Virgin Islands does best, and deliver improved services to the people for less.
Speaking Tuesday at a two-day summit on the "Importance of Effective and Efficient Government," many local leaders said there's no question that government operations need to be streamlined. Since that's been talked about for years with little results, several people also said they hoped this week's conference would finally lay out some specific recommendations for improvement and possibly a timetable for implementation.
Spearheaded by Senate President Louis P. Hill, the summit pulled together about 200 representatives from all three branches of government, whose heads—including Gov. John deJongh Jr. and V.I. Supreme Court Chief Justice Rhys S. Hodge—set the tone for change Tuesday by outlining some of the challenges they've seen and the steps they think are necessary to get the government operating at its optimum level.
"The best government is the one that does the most good by expending the least amount of money to complete the task efficiently," Hodge said in his opening remarks.
Reflecting on the general state of the economy, deJongh pointed out that the recession has forced several states and territories into multi-million dollar deficits—the V.I. government among them, which has had to plug a $200-million gap over the past couple of years with borrowing, diversifying its revenue sources through rum investments, and going after as much federal funding as possible.
DeJongh said the strategy so far has not included laying off government employees or raising taxes; so when you're talking efficient government, the focus has to be on a number of key initiatives.
Identifying baseline priorities, such as health, education and law enforcement, is a good first step; then the task, deJongh said, is figuring out how to best maximize the resources, while improving the quality of services—for example, using telemedicine instead of stocking the hospital with every kind of specialist.
Using technological advances to further streamline operations is no longer a pipe dream — it's an absolute necessity as the territory continues to compete with other tourist destinations in the Caribbean that are already doing the same, deJongh said.
With three islands separated by water, there's bound to be some redundancy, but that's no reason not to tighten operations by defining what the government does well, what it's role is and how it can do better, he added.
"I think the whole culture of government has to change within the next year," deJongh said, adding that one of the most important steps is to move outside politics by putting in the right leaders with the right kind of education and experience.
"If you want to change how the government is functioning, you have the ability to do it now," he added, looking around at the faces of his staff members.
Summit participants got some tips on how to bring about that kind of change from John Kamensky, who worked under the Clinton administration. Kamensky echoed deJongh's push for technological advancement by immediately getting the audience to participate in a poll where they sent in their answers via text message from their cell phones.
Saying it could be an effective way for leaders to receive input from their employees, Kamensky stressed the importance of working with employees on the front lines and rewarding them for their successes. He said when the Clinton administration came in talking about streamlining government, one of the first things they did was draft a basic set of principles.
Those four principles—putting customers first, empowering employees, cutting the red tape and creating partnerships—were repeated over and over again as Kamensky showed how, through the implementation of various initiatives, they paved the way for $50 billion in government savings.
Some of the initiatives included: giving less authority to bosses; setting up "reinvention labs" where small teams of representatives from each government department or agency "dedicate" themselves to fixing problems; creating management councils that meet monthly to talk about problems and solutions that can be fixed across the government; and using awards to encourage employees.
Kamensky showed how these initiatives filtered through subsequent presidential administrations, winding their way upwards to President Barack Obama, who he said should soon be announcing a new performance-tracking website along with an accountable government initiative.
"The focus with these initiatives is that they also reach across government agencies, trying to get everyone to work together, which promotes transparency and pulls private citizens into the process," he said. And, most importantly, it creates a "sense of urgency" among leaders to act, and actually get things done, Kamensky added.
Interestingly, one of the recommendations Kamensky also discussed was the elimination of government feasibility studies instead of just acting.
Speaking during a break, Personnel Director Kenneth Hermon said the recommendation was spot-on, and discussed the progress being made on one of the V.I. government's most significant studies — the monumental classification study, which will eventually outline each government employee's job description and pay, among other things.
At this point, the study has become more of a project, one which Hermon hopes to complete within a year and a half. Meanwhile, one of the initiatives coming out of the study is a new public management program set to launch in April 2011 that stresses familiarity with all government processes, not just those that apply to a manager or director's particular agency.
"We're hopefully looking at things like new rules and regulations, new computer models—a brand new system," Hermon said. "And I think that really ties into what we're hearing here today, especially in terms of streamlining human resources and really taking our policies to 2010 standards."
The conference ends Wednesday, but Hill said later that there's more to come.
"I'm hoping that after this, the governor, myself and the chief justice will sit down again work on developing a mechanism with which the agencies can implement some of the recommendations that come out of the summit," he said. "So today is not the end for us—it's just the beginning."