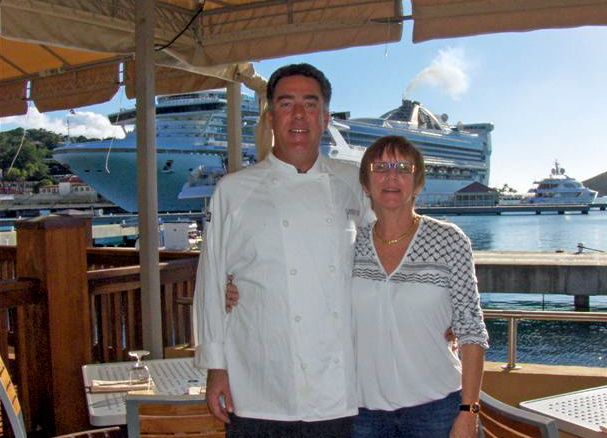 Restaurateur Patricia LaCorte believes, "One cannot think well, love well, sleep well, if one has not dined well."
Her many restaurants on St. Thomas over the past few decades are testament to this philosophy.
Happily managing Oceana at Villa Olga for most of the last decade, she took on her newest venture two years ago, when she was approached by Yacht Haven Grande management.
"I wasn't looking to open a new restaurant, but they asked me, and I find I'm inspired by the property," LaCorte says. "I believe in it. The other night there were two cruise ships with all their lights, such an exciting view. Then, next month, the marina will be filled with the million dollar yachts all shiny and lighted."
However, what really gets to LaCorte is what she calls the "other dimension," in terms of people feeling an identity. She says, "People walk their dogs, jog, walk their kids in strollers. It's community. Then, there's the Sunday farmers markets where everybody comes to pick up fresh produce, breads, jellies, crafts."
And that is the feeling she has imbued in her small, intimate restaurant and wine bar.
"I love the old world charm of Oceana, but this is a different feeling – it's more casual chic."
LaCorte who is from France, likens the restaurant's feeling to "a sidewalk café in southern France or Italy. It could be in Europe."
At lunch, a nearby table of locals are clearly enjoying luncheon. LaCorte greets them by name as they are finishing off a Salade Nicoise, complete with rare tuna, fresh green beans, red potatoes, hard boiled eggs, olives, tomatoes and beautiful locally grown lettuce.
The menu is sophisticated, with a local touch.
"We use as much as we can from local farmers at both restaurants," she said.
LaCorte is an active supporter of the local farm to restaurant movement, which is growing slowly though still a work in progress.
"We compost at both restaurants, and the farmers pick it up once a week," LaCorte notes with pride.
LaCorte also says she uses organic products as much as she can, pointing out a salmon entree.
"We use organic salmon, not farm-raised. It's good, clean food." She smiles, "We are what we eat, you know."
All the breads, deserts, and pastas are made on premises daily.
"We have one pasta, for instance ravioli or gnocchi , and when it runs out, it's done," LaCorte says. "The charcuterie plate is filled with house-made pates and sausages."
The bread basket is glorious, not for the weak of will. Each contains foccacia, a scone and perhaps, some sourdough rye. Pastry chef Deena's wonders include a flourless chocolate cake with homemade espresso ice cream, or, what the heck, a chocolate martini.
There is a variety of imaginative vegetarian dishes.
"We have a growing vegetarian clientele, for which we create dishes like tofu in a curry-coconut milk broth with jasmine rice," LaCorte says. "And we always ask how spicy the guest wants it."
LaCorte leads a reporter on a trip through the gleaming and busy kitchen to meet chef Kevin McCaffrey, from New Orleans. He looks up briefly, smiles at the introduction, and is back to chopping a beautiful hunk of ham for sweet sausage for turkey stuffing.
For those declining the delights of fresh-air dining, the inside dining room is small, quiet and elegant, lighted by a sparkling chandelier with two of David Hill's water paintings on the wall.
None of this ambience comes easily. It's a lot of concentration, attention to detail. It's work.
But, LaCorte says, it's not work to her.
"I want people to come and have a wonderful experience. I love food and wine and I love to see people enjoying themselves. I have lots of gratitude around what I'm able to do. I've been able to do what I love for a living. I learn something new every day."
LaCorte says she doesn't cook on the line any more, "but I am very hands-on … It helps the morale of my staff if they see how much I care."
She pays equal attention to Grande Cru's wine bar, which features tasting flights, with small courses paired with wines by the sommelier.
"We have an extensive wine list which showcases a 'by-the-glass' selection," she says, "with boutique wines from around the world offered in single and demi-carafe pours."
And, from 5 to 7 p.m., there's the Grande Hour.
"We have $5 martinis, unusual ones, a watermelon martini, with the fruit macerated for a couple days, a ginger and lemon grass one, too. It's fun for after-work."
The menu, though upscale, is affordable. Starters from $10, small plates from $15 and dinner entrees from $29.
The restaurant is open for lunch from noon to 3 p.m. Monday thru Friday and dinner 5 p.m. to 10:30 p.m. Monday through Saturday. It is closed Sunday. The phone number is 774-7263.
Oceana is open from 5:30 to 10 p.m. and can be reached by phone at 774-4262.