The University of the Virgin Islands men's basketball team remained perfect at Paradise Jam after a sensational performance Saturday night by freshman Shamal Caines helped lift the Bucs past rivals Pontificia Universidad Católica of Puerto Rico and onto a 70-54 win.
In front of a sizeable hometown crowd, UVI found itself down 30-28 at halftime. But in the second half the Bucs, along with their fans, picked up the intensity. The Bucs went into a full-court press that made it very difficult for PUC to move the ball. UVI caused multiple turnovers that led to fast break points and, with their strong perimeter defense, made PUC drive and kick trying to find an open man.
Making his debut at Paradise Jam, Caines showed no fear. Finishing the game with 13 points and 12 rebounds, he was there to deliver whenever the Bucs needed a key point.
"I've seen this guy play for the last three years and he's just got better and better with his shot," UVI men's coach Sean Georges said of Caines after the game.
"I'm feeling kind of good tonight," Caines said later. "I just came and played hard. My jump shot wasn't really falling but I tried to do a lot of everything else, you know, tried to hustle, and anything the coach asked me to do I tried. A lot of the time, mostly I found myself forcing shots, because I'm accustomed to shooting the ball like that, so I just settled down a little bit, took better shots, got my teammates involved and that's how we were able to pull away."
Both Georges and Caines said Saturday's game was a good way to prepare the team for its season.
"It's good to be 2-0 in Paradise Jam," Georges said. "We may have started off a little slow, but we knew once we got our guns going, we'd be just fine. So it really gets us ready for the season and makes everyone know that UVI basketball is something special."
During other games held in the day, Saint Peter's College fell to Long Beach State 68-56. Larry Anderson led the way for the 49ers with a double-double, 21 and 10 rebounds, followed by T.J. Robinson, who had 16 and 10 rebounds.
For the Peacocks, Darius Conley had 13 points, followed by Steven Samuels with 12.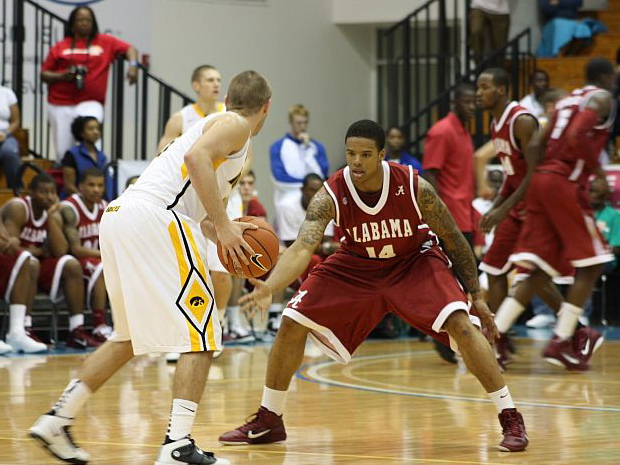 With the win, Long Beach will now play Iowa — which beat Alabama 55-47 in the second game Saturday — during Monday's fourth place game.
Saint Peter's will take on Alabama for the seventh place game.
The tournament continues Sunday with Old Dominion University taking on Clemson at 7 p.m. and Seton Hall playing Xavier at 9:30.
During Friday's final game, Xavier beat Iowa 86-73.