Captains of boats anchored along Bovoni Cay in Benner Bay, St. Thomas, must move their boats from Nov. 30 to Dec. 14 as the Fish and Wildlife Division of the Planning and Natural Resources Department begins to install hurricane moorings in that area.
This phase of the hurricane mooring system affects the area from Saga Haven Marina east to V.I. EcoTours.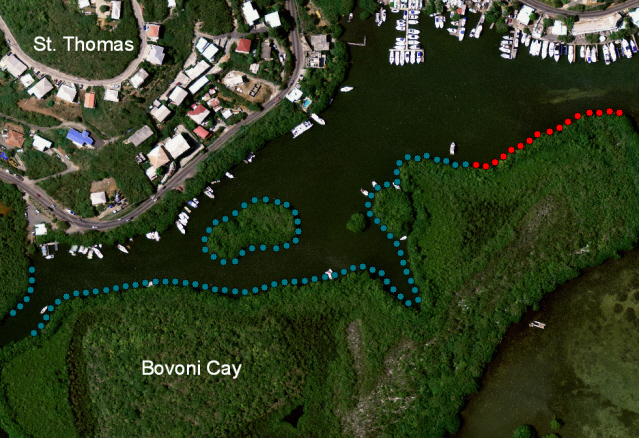 "We currently don't have any infrastructure for a hurricane mooring system. People are tying up to the mangroves," said January Murray, a fisheries biologist at Fish and Wildlife.
The goal is to protect the mangroves and other areas from damage done by boats anchoring and tying up to the mangroves during hurricane season.
Use of the hurricane mooring system will be free, but information provided by Murray indicated a fee may be charged in the future.
Boats will be allowed to move into the area 96 hours before a storm is expected to hit. They can stay there until 72 hours after the storm passes.
Installing the Benner Bay hurricane mooring system will be a multiphase process. Murray said that the initial installation includes 16 moorings at a cost of $57,000 from the U.S. Fish and Wildlife Service. More will be installed as money becomes available. When the project is complete, Benner Bay will have a total of 112 moorings.
Boat size will be limited to under 65 feet. Since the area is shallow, only boats that draw less than four feet should use the area.
American Underwater Services has partnered with the St. Thomas-based Lighthouse Marine to do the job, Murray said.
According to Murray, it appears that there is one problem boat in the area. She said the boat can't move although someone lives aboard. Murray said that Planning's Enforcement Division published a notice in late October alerting the occupant that he must move or be considered derelict.
Fish and Wildlife took its cue from V.I. Coral Reef National Monument on St. John when it came to setting up a hurricane mooring system, utilizing a hurricane chain system.
"We'll use the one-inch galvanized steel chain," Murray said.
She said that Fish and Wildlife decided to not use the shackles of the St. John system because the monument staff found it didn't help make the boats using its hurricane mooring system any more secure.
Boaters will have to sign up in May or June 2011 for a lottery that will give them one of the 16 places on the hurricane chain. Murray said they will have to reapply every year to be included in subsequent lotteries until the 116 moorings are complete.
"And if they don't abide by the rules, they won't be able to reapply," Murray said.
Fish and Wildlife plans to tweak the process as it gets more experience with the mooring system, Murray said. For more information, contact Murray at 775-6762.