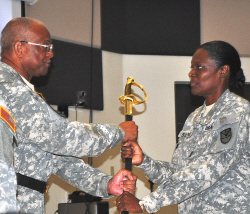 More than 250 members of the V.I. National Guard stood at firm attention Saturday in the Great Hall of the University of Virgin Islands campus in St. Croix to welcome the newly appointed State Command Sgt. Maj. Mona L. Barnes in a change of responsibility ceremony.
The appointment of Barnes actually took place July 7 of this year, but former State Command Sgt. Major Barry E. Fredericks wanted to give her time to transition to her new role, and wait for the official change of responsibility to take place near his retirement, which will be held in a ceremony on St. Thomas Sunday at the Ivanna Eudora Kean High School at 10 a.m.
"With me getting out, and her coming in, we needed a short transition time to prepare us both for this big day," Fredericks said, who officially retires from his 35 years of military service on Dec. 31.
Barnes, who is the first female to be appointed to this position in the VING, joined an elite group of females: Only two others hold the position in the 54 states and territories. The transition period allowed her time to learn the numerous tasks and duties of the job.
"Tomorrow, there are no more excuses, if something goes wrong now, I will be the one to take the hit," she said of the responsibility.
The ceremony began with a touching photo slide show of Fredericks' military history, and was followed by the passing of the sword: a military tradition symbolizing the formal transfer of responsibility from one command senior enlisted leader to another.
A brief introduction and welcome was then given by the V.I. National Guard's Adjutant General, Renaldo Rivera, who gave a sincere public thank you to Fredericks' wife for her love and support over the years.
Fredericks also thanked his wife publicly, and joked that the reason nobody had ever met her before is because he has been on the road for nearly 35 years – busy taking care of other enlisted members.
During his speech, it was clear that although Fredericks is retiring, he isn't finished leading – or giving advice. While upbeat in his approach, he didn't mince words as he explained firmly that a Non-Commissioned Officer's (NCO's) primary responsibility is to take care of soldiers underneath them.
"Once you put on stripes [to be an NCO], you made a step that says: 'I'm a leader, not a crier, not a complainer – but a leader'," he said.
"From the time you get up and put your uniform on, you are representing the best military on the planet!" Fredericks exclaimed, emphasizing with a firm repetition.
After his speech, Fredericks was presented with two gifts for his service and his wife was presented with a bouquet of flowers.
Barnes then took the podium and after thanking the audience and her mother for her support, she explained that she was going to be a fair leader, and that she would embrace the many responsibilities of her job.
"I will submit to you that I sit behind my desk and every time I have to use the stroke of a pen, I realize that I am affecting someone's life," she stressed.
At the end of her speech, Barnes reiterated how grateful she was to her mother, Eleanor Estrada, who lives with her but rarely sees her because of her attendance to soldiers.
"One thing that's a trial for me, is that she's continuously gone – but I'm happy for her, it's what she wants to do," Estrada said with a proud smile.
After the ceremony, military and family members celebrated the change of responsibility with refreshments and appetizers.
"This is great. It's a new change for NCOs. CSM Fredericks served for 35 years, and this is something that the military does for its senior leaders, said Maj. Sherry Morales.
One thing is certain; Fredericks will be sorely missed by many members of the V.I. National Guard. Fighting back tears, State Command Chief Master Sgt. Willette Lewis embraced Fredericks and thanked him for all he has done over the years.
"I'm losing a wonderful mentor, and a great friend," she said.