While the predicted path of Tropical Storm Tomas, which formed Friday in the Atlantic about 200 miles east of the Windward Islands, takes it well south of the V.I., National Weather Service meteorologist Shawn Rossi said late Friday its outer bands could bring "locally heavy rainfall."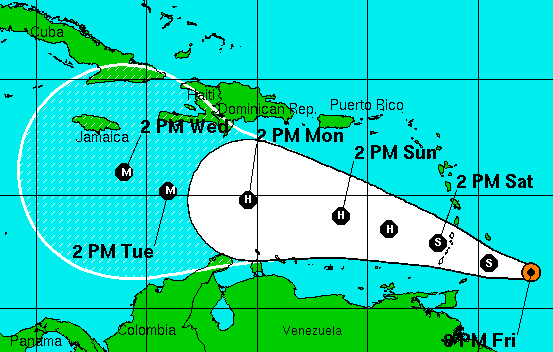 Rossi, with the weather service office in San Juan, said he expects the center of Tomas to pass abut 300 miles south of St. Thomas and St. John and 250 miles south of St. Croix around midday Sunday.
While Rossi doesn't think the rain will be much of a problem for the territory, he said that a situation similar to what became Hurricane Otto could occur with Tomas continuing to draw moisture up from the south.
"But that's seven to 10 days out," he said.
After slowly growing in strength over the last several days, Tomas then bulked up rapidly, skipping the tropical depression stage to became a tropical storm as of the 5 p.m. update Friday from the National Hurricane Center in Miami.
At 8 p.m. AST, the center reported that Tomas is continuing to strengthen rapidly, with winds at 60 mph. Its position is about 170 miles southeast of Barbados, and it's moving to the west northwest at 15 mph.
This is the 19th named storm of the year, which makes it one more than the 18 predicted by the Colorado State University team of Phil Klotzbach and William Gray. The average number of named storms per year is 9.6.
V.I. Territorial Emergency Management Agency Director Mark Walters urged residents to keep a watchful eye on the storm and to take necessary precautionary measures to ensure their safety.
"We're also asking the community o stay tuned to local stations and to monitor their phones, e-mails and faxes for updates and advisories on this system being issued through V.I. Alert," Walters said.