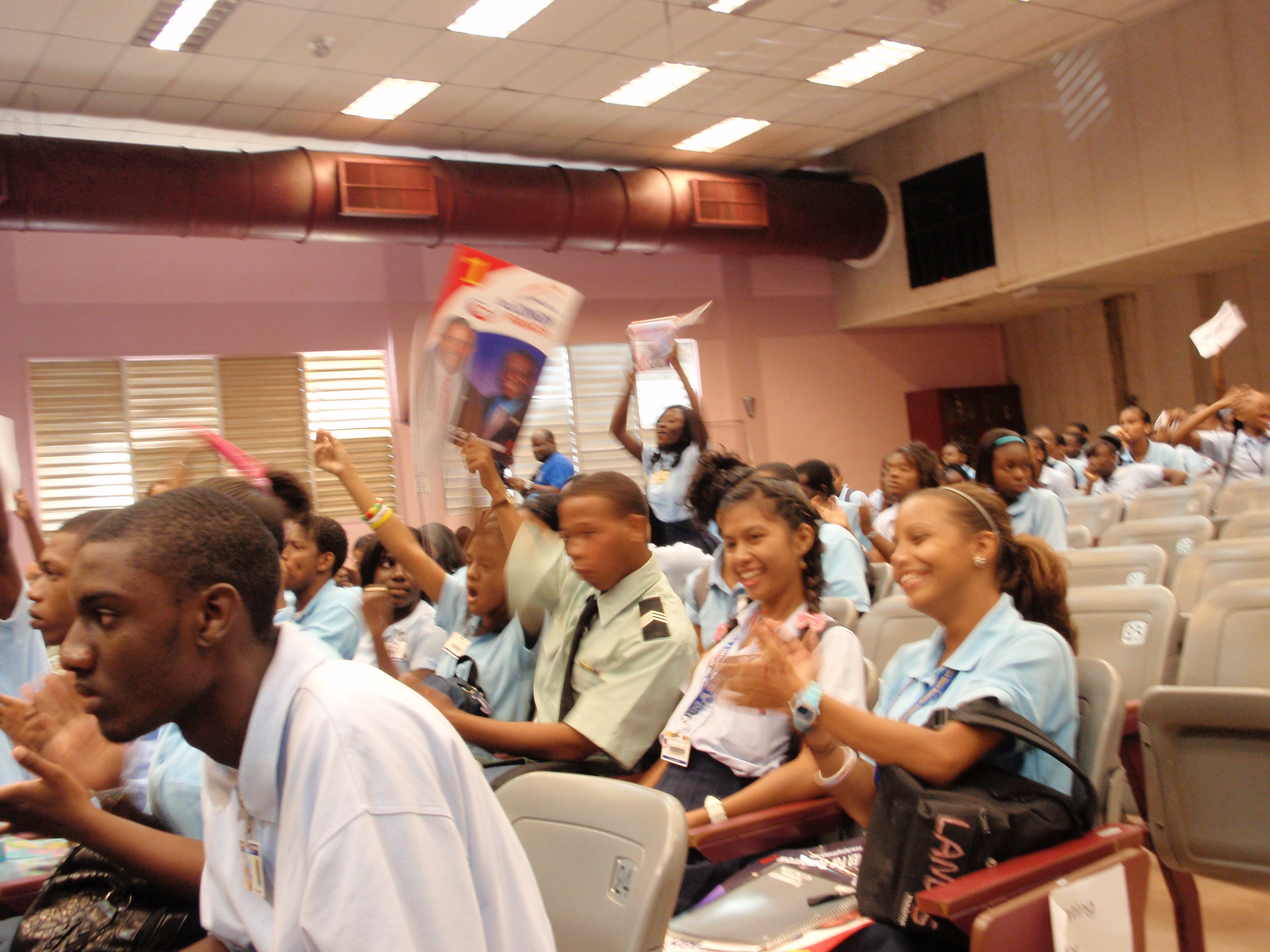 Candidates for governor, delegate to Congress and senator at large had a hard time at moments being heard over the din of youthful exuberance that filled the Charlotte Amalie High School auditorium Tuesday afternoon as a few hundred students plied the politicians with questions they developed on their own.
Among the questions posed to the eight candidates who showed up was at least one zinger.
"In light of the rising awareness of bullying in the Virgin Islands and the U.S. mainland," one of the student panelists asked, "do you think it is appropriate for you or your opponent to use attack ads and derogatory statements to win support, especially in front of a young, impressionable viewing audience?"
By the time the question was asked late in the session, the audience of CAHS Social Studies students, had grown wild in their reactions cheering heartily for the question, and almost equally for the responses of Gov. John deJongh Jr. and his opponent, former Lt. Gov. Kenneth Mapp.
Mapp characterized his campaign ads as simply pointing out the governor's failures. DeJongh said he hadn't run any negative ads.
There was, however, no appreciable response to Congressional delegate hopeful Vincent Danet when he implied that part of the funding problems facing the is the result of the health care reform bill which Danet said adds 16 million people to the health care rolls, some of whom could be illegal immigrants.
At least one young person did react after the forum that ran for an hour and a half.
"Doesn't he know a lot of us are immigrants," Johnny York, 18, said. York, a senior, came to the territory from the Dominican Republic to get a better education when he was 9 years old. (see editor's note)
And when it comes to funding, York and his friend, Maxwell Rijo, 16, said the government needed to spend a few bucks on air conditioning for their classrooms.
"See that bright sun up there," Rijo said pointing to the sky. "And see where it's shining," he said, leveling his index finger toward the bright yellow school building made all the brighter in the reflection of the afternoon sun.
Both expressed their greatest concern about school lunches, saying they didn't like them and were upset that they no longer had other choices on campus short of bringing their own lunch.
Moderator for both the afternoon session and the morning senatorial forum, 18-year-old Shamoy David had other concerns. He came away from the experience better informed and with one especially big surprise, he said. A question posed to the senators in the morning session about extended school hours got not one positive response, David said.
David, 2011 class president, thinks longer hours are a good idea if the territory is going to keep up with the rest of the world.

It was difficult to determine if the low-level buzz in the auditorium for the entire meeting was the result of the teens chattering about the candidates, or if it was more in the nature of audible note passing. And when the bell rang for the last period, most of the students were hard pressed to stay seated, though most did until CAHS Principal Carmen Howell dismissed them.
But they were visible in their support of their candidates during the discussion, applauding and shouting support when the governor arrived. They also bobbed signs and hooted for Mapp periodically.
Most of those lingering on campus afterwards were willing to share their thoughts about the issues and politics in general.
"All of them only came out when they wanted our vote," 15-year-old Aaliyah Carty volunteered.
Carty, who said she wanted to be either a nurse or dentist, said she would vote Wednesday in the school's election, but she would bullet vote for senators – not picking seven.
York said he would be unlikely to vote in the school's mock election Wednesday. "Talk is cheap," he said, adding he didn't really cotton to politics. "I could say I'm going to Mars, but that doesn't mean I will."
Along with deJongh and Mapp, also present were senator-at-large candidates Sen. Craig Barschinger, Lorelei Monsanto and Alecia Wells. Delegate Donna Christensen was present along with two of her three opponents: Danet and Guillaume Mimoun. Jeffrey Moorhead was not there.
Editor's note: The Source originally attributed Danet's remarks about illegal immigrants to a discussion of education funds. But it was actually in response to a question about how the Health Care Reform Act will help the Virgin Islands.