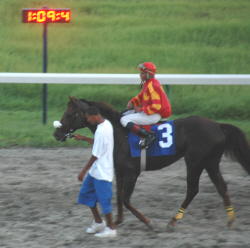 El Real Madrid had St. Croix race fans on their feet cheering loudly and some gasping after he broke the six furlongs track record in a time of 1:09.4 Sunday at the Randall "Doc" James racetrack.
No one knew what to expect in the race. They knew he was runnning well long after destroying the field by some 10 lengths in his debut, but this was a sprint and many expect the sprinter Groomsman to win the race, with one fan saying that he thinks Groomsman might break the 1:10.1 record on Sunday.
That was not to be, as trainer James "Bobo" Bates' chesnut horse was just too much for field.
At the break, as expected, Groomsman flashed to the early lead and took the field into the backstretch followed by Gallant Ruler, El Real Madrid and Cherokee Law. Suddenly at around the five furlongs marker, as if they thought the front runner was going too slowly, El Real Madrid and Cherokee Law picked up the pace, ran by the front runners and a matched race briefly ensued.
El Real Madrid with jockey Miguel Sanchez in the irons and Cherokee Law with Wilfredo Lozano would battle nose to nose until they approached the 3/8th pole. This is where El Real Madrid gained the lead and began to pull away. Cherokee Law appeared to pull up and drop back before regaining his composure. But there was no catching El Real Madrid who had drawn clear and was streaking towards the wire.
Cherokee Law, still racing hard, fought back a challenge from Groomsman and jockey Kevin Krigger, who tried to sneak by on the inside for second, but the Law had more in the tank and was able to pull away for a clear second-place finish.
With the racing commission's new installation of the race clock at the finish line, race fans can now see the time of the race as soon as the horse hits the wire. When that 1:09.4 flashed as El Real Madrid went by, there was a buzz in the stands that was still going on long after the horse was back in its stable.
The rest of the day's results:
Race1 7 F I-4 & I-5(M/F) & I-6 C/G Jockey
Time: 1:28.1
1. Sarosata May Bell, Wilfredo lozano
2. Devil's Revenge, Elmo Barnes
3. Grey Forbes, Miguel Sanchez
Race2 5F Class I5 (C/G), Jockey
Time: 1:00
1. Elston V, W. Hurst
2. Protype, Miguel Sanchez
3. Neerly Nasty, Kevin Krigger
Race3 7 ½ F I-3,I-4 & I-5 Jockey
Time: 1:32.2
1. Expect Smoke, Sunday Diaz
2. Heats on Fire, Christian Soto, Jr.
3. Wiseman's Choice, Kevin Krigger
Race4 1M "VI Bred" Open Race, Jockey
"The Wind Flow Invitational"
Time: 1:42.4
1. Dinero, Angel Viera
2. Creation Rebel, Miguel Sanchez
3. Prince Crystal, Winston Hurst
Race5 6F Open Race M/F, Jockey
Time: 1:10.4
1. Bonny Bonita, Kevin Krigger
2. Flankers Lady, Elmo Barnes
3. Prodefrere, Jesus Guadelupe
Race6 1M "VI Bred" Open Race, Jockey
"The Cruzan Rum Classic"
Time: 1:44.2
1. Miss Kosi, Elmo Barnes
2. 7707 Rita, Angel Viera
3. From Emerald to Ruby, Wilfredo lozano
Race7 1M Open Race, Jockey
Time: 1:38.3
1. Temo's Dream, Wilfredo Lozano (DQed to 2nd)
2. Puertorican Emblem, Jesus Guadelupe(Awarded 1st on DQ)
3. Green Sand, Angel Viera