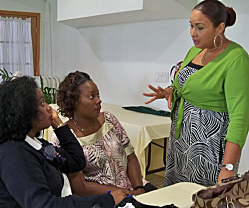 St. Croix made a four-day long attack on one of its perceived weaknesses in the tourism industry – lack of customer service.
Taste Of St. Croix Inc. and the St. Croix Restaurant & Hotel Association held a lengthy workshop this week to build customer service in the guest services, hotel, food and beverage industry.
"The goal is to help make a better-educated service industry," said Katherine Pugliese, owner of eat @ Cane Bay and a founder of Taste of St. Croix. "This will give service industry workers a leg up on developing customer loyalty and customer relationships."
Close to 150 people attended all or segments of the free workshop.
The workshops were conducted by John Avella, and his wife Susan Specht, of EQ International Perspectives. He was a V.P. of Marriott Hotels and in charge of food service at the 2002 Olympics. And he has done research and training in customer service and loyalty. Avella has been coming to St. Croix since the 1960s and has done 10 St. Croix Iron Man Triathlons, so he knows the industry on St. Croix pretty well.
On Monday and Tuesday at Divi Carina Bay Resort and Casino, the workshop was called ServSafe Food Safety Management with Servsafe Sanitation, a nationally recognized program for kitchen employees. This workshop, trains, tests and certifies participants in proper food safety handling techniques.
There were 10 St. Croix Career and Technical Education Center culinary students of Chef Anton Doos attending the workshop Monday and Tuesday. Doos said on Friday he thought it was a good idea for the students to take the test and possibly get college credit and certification if they passed.
"Developing Customer Loyalty" – designed for front of house employees — was held at the Palms at Pelican Cove Thursday and Friday.
Avella said this approach to guest service is a new perspective for the 21st century.
"It is not a training program to teach people scripts," Avella said. He added it is about connecting with guests, developing relationships and creating loyal guests.
"Servers who connect with the guest make 127 percent more in tips," Avella said Friday. "The most successful are the ones who know how to connect with guests." He and Specht also gave tips and handouts on stress reduction and communication.
Lesley Morrison, owner of The Galleon, said she recognized that communication is always the No. 1 thing in business.
Colin Hodge, also a founder of Taste of St. Croix, said organizers hope this training will trickle down and be passed on to the next generation.
"The workshop benefits the whole island," Hodge said. "The workshop is to help recognize and build on the brand of what we have here," Hodge said.
The workshop was open to all past participating restaurants and caterers of the annual A Taste of St. Croix. Proceeds from A Taste Of St. Croix, a week-long wine and food experience, went toward the workshops.