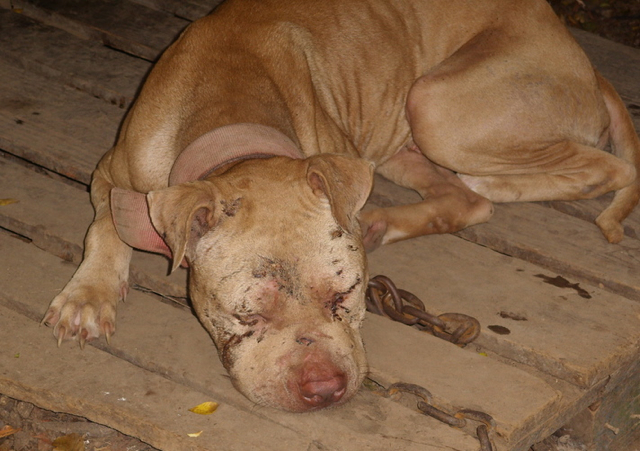 The roar of earth-moving equipment Tuesday behind Lorraine Village Apartments was the sound of a promise being fulfilled.
And in keeping that promise, St. Croix Police discovered more than a dozen malnourished and wounded dogs and more than 100 chickens living in unhealthy conditions. Police arrested 27-year-old Ravi Samuel and charged him with animal cruelty after he claimed ownership of the chickens.
Saturday more than 10 police officers from the Tactical Unit had converged on the apartment complex in Estate Grove Place as part of a heightened effort by police to improve community relations.
The officers had gone door to door talking to residents about their safety concerns. They handed out rulers, pencils, pens, coloring books and cups with VIPD logos on them, and Crime Stoppers bumper stickers and key chains to the children and adult residents.
Deputy Chief of Police Christopher Howell said in a recent press briefing that officers will increase their community outreach.
One of the top concerns voiced by residents Saturday was the overgrown bushes behind the community.
"The most glaring problems were the overgrown bushes where residents said shots are fired, dog fights happen and stolen items were stored. So we decided to cut the bush down," Howell said.
During last week's press briefing, Howell had said that it's not enough to talk to the people and get their concerns. The police have to act on those concerns to show the residents that they are serious about improving the situation.
So the police called on their community partners—including the Department of Housing, WAPA and Public Works—to make improvements in the coming weeks. Tuesday's visit by the police and Public Works leveled the bushy area behind the complex, removing the heavily overgrown area that served as a hiding place for criminals.

At about 8 a.m. police arrived in the area with Public Works machinery and while clearing the brush discovered the animals. The dogs showed signs of being fought. They had cuts and abrasions and many were diseased, according to the police. The chicken coops were dark, cramped and there was no water or food in sight.
The Animal Shelter was called to take the dogs, and the Department of Agriculture confiscated the chickens.
Samuel, who lives in Lorraine Village Apartments, was held on a $10,000 bail and remanded to the Golden Grove Adult Correctional Facility.
The community outreach will continue, the deputy chief said.
"We are not going to stop. We are going to reach out to the neighborhood schools and housing communities. The officers enjoy interacting with the public, and the public appreciates our efforts."