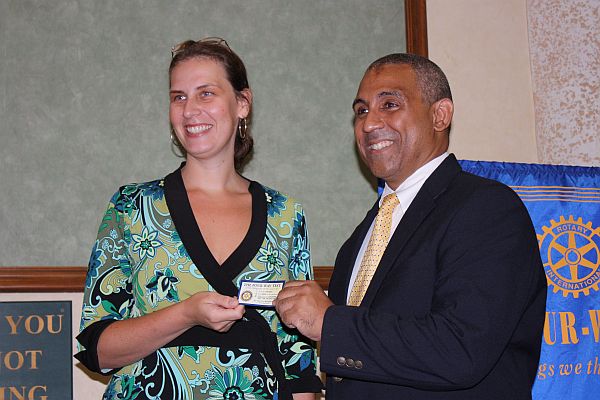 The V.I. Territorial Emergency Management Agency has been building the components of its new all-hazards alert system, which will soon include tsunami-warning capabilities on all three islands, agency head Mark Walters told local Rotarians Tuesday.
VITEMA recently received two federal grant awards that covered the cost of eight sirens — three each for St. Thomas and St. Croix and two for St. John — to get the system off the ground, but Walters appeared before the Public Finance Authority last week to ask for another $200,000 for additional equipment. Each siren has a limited tone range of 1.2 miles, and more are needed to cover the terrain, he explained to PFA board members.
To save on money, the V.I. Water and Power Authority has helped out by donating the pole space for the sirens, and has also agreed to install the equipment, Walters said, adding Tuesday that a contract is being finalized with American Signal Corp. for the first eight sirens.
Meanwhile, $100,000 will be put toward hiring a technical consultant tasked with putting together a real tsunami plan for the territory. And once the sirens are installed, they will link into VITEMA's new V.I. Alert System, which will be triggered once a tsunami warning is issued from the Alaska Tsunami Warning Center. The system is fully automated, Walters said, and will reduce the possibility of human error.
Speaking after the Tuesday meeting with the Rotary Club of St. Thomas Sunrise, Walters said the territory is definitely in an "active area of the world," prone to the type of earthquakes that generate tsunamis.
"There is a history here of tsunamis, so it's not really a matter of if, it's a matter of when," he said. Walters has said he hopes to get the new system up and running by the end of the year.
Records show tsunami waves hitting St. Thomas and St. Croix on Nov. 18, 1867, after a record 7.5 magnitude earthquake.
Walters also spoke to Rotarians about building out some other V.I. Alert components, including a GPS capability that would make it easier for first responders to pinpoint specific locations.
While a preliminary data layer is being developed by the New York State Emergency Management Office — the brains behind V.I. Alert — Walters said Tuesday that the most effective data will be compiled through the ongoing project spearheaded by the Lieutenant Governor's Office and University of the Virgin Islands.
Oftentimes what it comes down to is simply having accurate street names, he explained.
The geographical data will also help boost operations at VITEMA's new emergency 911 call centers, which fields about 33,000 calls per month, Walters said. He cited an example of having multiple residents from one particular neighborhood on St. Croix call in to report an incident, but give different directions to the scene.
"It definitely continues to be a challenge for us," he said, adding that operators have had to "be creative" when coaxing out certain types of information.