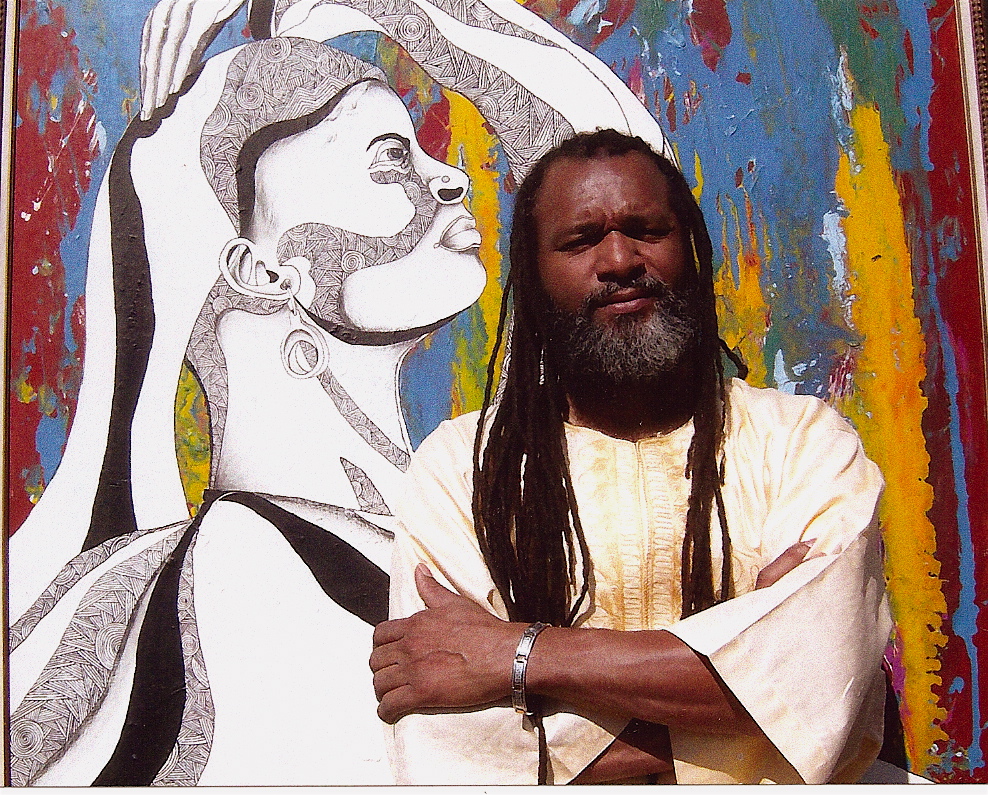 "I sometimes dance and sing when I create my art," says Jahheal Massac, the motive force behind the exhibition, "The Many Faces of Yisrael" that opens at the Jewish Museum of New Jersey with a special reception at noon on Sept. 26th.
The show includes paintings, sculpture, drawings and photographs by Massac and two other artists, Phillip DeLoatch and Mansa K. Mussa.
If Massac dances and sings as he creates, it seems likely that DeLoatch and Mussa do too, because the art of all three men nearly bursts from the walls with spirit and energy.
Massac was hanging pictures in the museum when I visited. He was in something of a rush to get the exhibition installed before he returned to Frank H. Morrell High School in Irvington, where he teaches art. That gave me the opportunity to walk around and look at the works that were already on display.
I stopped before several of Mussa's photographs of people of many races who are engaged in Jewish observance. One man blows a shofar [ram's horn]. Another holds torah scrolls. DeLoatch's paintings also drew my attention. They meld abstract art with powerful depictions of human figures, some surrounded by Hebrew texts.
At the moment when Massac's hammer stopped tapping, I started to ask him about the genesis of the show. Where was he born? Did he come from a religious family?
"I was born in St. Thomas in the Virgin Islands," Massac explains. "I started to draw at the age of 6, and even then I knew that I was developing a spiritual sense in my work. Maybe it was because I came from a very spiritual family."
Were there many Jews in the Virgin Islands?
"Yes, there were many," Massac explains. "Some were Ashkenazi and Sephardic Jews, who had temples there. But there were many more African-Jewish communities."
When he was 13 or 14, Massac took vows and became confirmed as a Nazarite Jew.
"Nazarites take vows to uphold the laws set out in Books 1-23 of the Torah," Massac explains. "Among other things, that means that we are vegans, that we drink no alcohol, and that we observe other restrictions. It is funny, but when many people see me and other Nazarites, they assume that we are Rastafarians, because many of us have dreads. But our spiritual disciplines are very different from those of Rastafarians."
Massac is in close contact with other Nazarenes here in America, Europe and the Caribbean, some of whom appear in the drawings and photographs in the show. Of these, one drawing by Massac is particularly moving. Called "The Teacher, the Cohen," it shows an old Black Nazarene teacher. His kind face is framed by long dreadlocks. His beautiful hands meet before him, thumbs and index fingers touching in some symbolic gesture.
Massac explains that the man in his drawing was a Nazarene from St. Thomas – a cherished spiritual counselor who died before ever seeing the drawing that Massac had completed of him.
I stopped and admired many works in the show. They are all extraordinary. Curiously, the thought, "Hey, Indian, Black and Asian people are engaged in Jewish worship here," never really entered my mind, because the art was doing what good art does – drawing me in and affecting an emotional, not an intellectual, response.
I stopped before "Father and Son," a ceramic relief by Massac that was hanging on one wall of the museum. It captures an event that cuts across all religions, races and countries: the moment when a father looks at his young son with pride and love.
"It's me and my son," Massac explained to me. Then we both stood and looked at it in silence for a moment before Massac went back to hammering picture hooks and I headed out the door. As I drove away, I realized that my perspective on the world had been changed. I can't name another art exhibition that has ever done that for me. But no doubt about it, this one had.
The Many Faces of Yisrael will open with a special reception on Sunday, Sept. 26 from noon until 6 p.m. The show will run through Jan. 23, 2011.
The Jewish Museum of New Jersey is located at 145 Broadway, Newark, N.J., at historic Congregation Ahavas Sholom. The museum is open on Sundays from 1 to 5 p.m. and by appointment.
For information call (973) 672-5752; or email jaam7@aol.com or info@jewishmusemnj.org.
Writer and author Barry Lenson is a member of the Board of Trustees of the Jewish Museum of New Jersey.