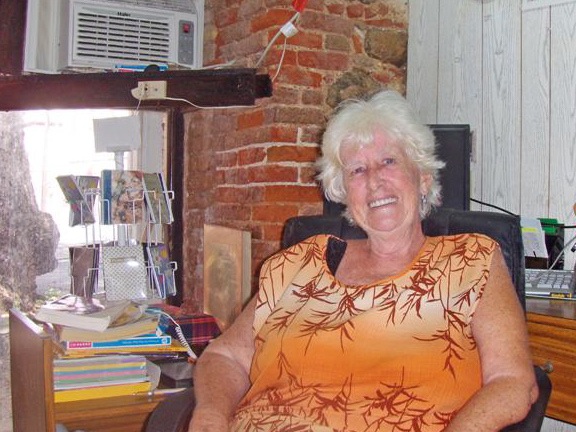 Chances are if you've had your passport photo taken in the past 40 or so years, especially the first 20 of those, let's say, Betsy Beretta has been on the other side of the lens.
Sitting in The Snap Shop, squeezed into a tiny corner the Francois building across from the Frederick Lutheran Church, the veteran photographer plainly enjoys talking about her life on St. Thomas, her brood of seven, her marriage to attorney George Beretta.
In fact, by her own admission, she "just enjoys talking."
"You can go out the door, and I'll still be telling stories," she says, which, in fact, turns out to be true.
She left a small Pennsylvania town after high school to join the Army, where, in a round-about way, sharing a cab, she met her future husband, George Beretta, while becoming a PFC. The Army didn't last – the husband did.
On a visit home to his native St. Thomas, where he told his family about Betsy, showing them a photo he'd taken. Beretta"s mother gave him some advice "Marry that girl in the picture, and pursue your education."
George Beretta, now a retired attorney, studied law in Chicago, while doing a bit of photography.
"That's where I sort of fell into it," Beretta says. "George handed me the camera for a wedding shoot one day, and that was it. I've had a camera in my hand ever since."
The couple moved to St. Thomas in 1964 with their small family of two, Michael and Patrick.
"I went to work at Little Switzerland,"Berretta says, "where I would drool over the Hasselblad. cameras. I was using my little Brownie Hawkeye. In 1967, I bought my first Hasselblad with my store discount. We were thrilled. Actually, though, I wanted the one they left on the moon."
In 1969 a friend suggested Beretta take over the space which used to be a sports shop. The tiny quarters speak to the intimacy Beretta projects. She is part and parcel of the building, reflecting its charm. She makes you feel at home. "A picture, some advice, just to talk for a bit?' All seem available.
"I've raised all our kids here," Beretta says. "They all went to St. Peter and Paul's, just down the street, and they'd come here after school every day. I think they got a good education here, too, listening to people talk. They learned values."
The Berettas raised seven children. The oldest, Michael, died in a motorcycle accident when he was 15, Beretta says. The others range from Patrick, 50, to Bonnie 34. In between are Barbara, Dante, Gigi and Vicky, "all honor students," she says.
"We'd develop film at night," Beretta says, "while I was cooking supper. "I'd have a kid in one hand and a pot in the other, and we'd film hanging in the kitchen."
Beretta used 35 millimeter black and white film for the passport picture, and saved the Hasselblad for weddings.
She has no idea how many photos she's taken over the years.
"Thousands,"she says. "There'd be people stuffed in here. I'd have to shoo the kids outside. I did about 30, 40 photos a day."
She has had her share of celebrities, to whom she gives short shrift, with exceptions.
"You've heard of Ben Spock? He came in for a driver's license photo. He's so nice, and funny."
Beretta became something of a celebrity herself, if only, she says, "by default." In 2004, at 68, she decided to enter the Ms. V.I. Senior America Pageant, "on a whim."
"I'd never done anything like that. We didn't even have a pageant because the only other contestant fell and couldn't compete. "
"So there I was, headed for the national Ms. Senior America Pageant in Las Vegas," she says. "I thought 'what am I doing here'? I'd bought one dress here at that mall, and that was that. One woman had 28 dresses. I showed my photography for the talent, and I came home happy."
With a bit of prodding, Beretta reveals that wasn't her only time in the limelight. She bared, if not her soul, at least a good part of her anatomy in the Caribbean Palm Bonnets Tropical Treasures somewhat nude 2004 calendar, which she and Jane Clemo, local Red Hat Society president, put together. Inspired by the British movie, Calendar Girls, the calendar raised $25,000 for the Charlotte Kimelman Cancer Institute.
These days, Beretta says of her business: "What started out as a hobby, became a business, and now it's back to a hobby." And that is fine with her.
And, of her life: "I am just filled with gratitude for all my clients – they helped raise my kids – and for the opportunity to do what I've done. Would I have gotten a chance anywhere else?"
"Now, about the calendar," she says, as the interview draws to a close., "It was really an experience…."
She laughs.
"See, I told you I'd still be talking."