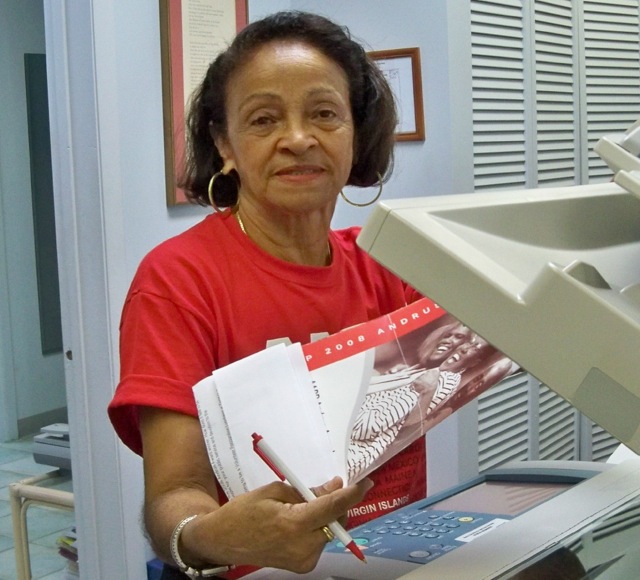 Luz "Lucie" Rodriguez is the light of her families' life and through volunteering she is the light of the lives' of Hispanics on St. Croix. It may have been destiny. Her father named her Luz, which in translation, means light.
Rodriguez who is bilingual, takes it a step further. She says she is the "portavoces," Spanish for spokesperson for the Hispanic community. There is not doubt she lights up in her community, giving her time freely at the American Cancer Society and AARP enlightening and educating Hispanics on issues, programs and services available to them on St. Croix.
Originally from Vieques, Rodriguez moved to St. Croix in 1968 after graduating with a bachelor's degree in social science from the University of Puerto Rico.
"This beautiful island and people of St. Croix have opened their arms and offered me everything," Rodriguez. "So I decided to give back to the community and to those in need."
Her volunteerism in the community began upon her retirement at the age of 49 after putting her language skills to use for 27 years working in the Department of Human Services and the Department of Labor.
She began her volunteering with the Breast and Cervical Cancer Coalition until it disbanded due to the lack of funding.
Now she volunteers with the American Cancer Society (ACS,) assisting Spanish speaking cancer patients and their families by educating and counseling them on services available here and in Puerto Rico. She explains that she has a lot of energy and can work without keeping track of the hours as a chairperson for the Relay for Life annual fund raiser for ACS.
On top of her work at ACS she is also very active as a volunteer at AARP.
She is an instructor in AARP's Driver Safety Program – giving lessons in Spanish. She is a moderator for Dimelo "teach me" radio show on Latino 90.9 highlighting issues, programs, and services provided by AARP. She also helps people to understand how to prevent Medicare health care fraud. She helps at AARP events and outreaches such as health fairs. She recruits other volunteers from among her friends.
She is a an active member of the Virgin Islands and Puerto Rico Friendship Committee and a member of Caritas Alegres, a non profit group that raises funds to help people with catastrophic illnesses. But all that doesn't keep her busy enough; she is on the board of the Yvonne Ann Galiber Foundation offering assistance any way she can to breast cancer patients.
"I am able to do all my volunteering by managing my time and working out schedules," Rodriguez says.
Rodriguez mentioned with a bit of humility and a bit of pride the recognition she has received for her contributions to the community.
In 2008 she received the national AARP Andrus Award for her dedication as a spokesperson and her outreach to the Hispanic community. The award, named after the founder of AARP, Ethel Percy Andrus, is awarded yearly to one person from each state in the nation.
For her dedication to the ACS, she was chosen in 2007 as an ambassador for the "Celebration on the Hill" held in Washington, D.C. Hispanos Unidos honored her with the "El Quatro" and "I am Proud" award in 2007.
She married Ricardo Rodriguez in 1972 and refers to him as "the best of the best." Her son, Ricky Rodriguez, lives in Virginia, and her daugher, Luz "Lou Lou" Rodriguez, on St. Croix. She has two granddaughters here who reciprocate her light. She says they are the light of her life.
"I love to spend time with my granddaughters and teach them our Hispanic traditions," Rodriguez says. "I teach them Puerto Rican dances," Rodriguez says with a loving chuckle. "And they teach me the modern dances."
Rodriguez, whose exuberance was contagious in the interview, is a member of Mis Raices Dancing Group, performing cultural, folk and Puerto Rican dances like the bomba.
When asked about what the future holds for her she said she will always be available to help people in need.
"I would also like to inspire others to volunteer and give back," Rodriguez says. "There are so many people in need. One can even look out for their neighbor and see what their needs are."