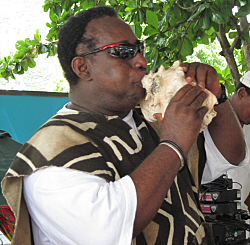 The sound of the conch shell could be heard Saturday throughout Cruz Bay Park as the island observed Cultural Day as part of its St. John Festival.
"It summons and heralds. It motivates you," St. John resident Mano Boyd said as he explained the significance of blowing the conch shell.
Used in the old days as a way to communicate, the use of the conch shell is a tradition that continues.
"It represents what me and my ancestors are all about," Boyd said.
Boyd is a trumpet player, and he said that he makes music rather than the usual monotone with his conch shell.
Saturday, July 3, is celebrated as Emancipation Day across the territory to commemorate the 1848 freedom of the slaves. The uprising began on St. Croix and ended at Frederiksted's Fort Frederik when Gov. General Peter Von Scholten pronounced an end of slavery.
"Just like Independence Day is important to all Americans, this is our independence," St. John resident Laurel Hewitt-Sewer said.
The day-long celebration included cooking demonstrations, music and speeches.
St. John resident Oswin Sewer spoke about the changes that happened on St. John after Emancipation. Workers had unbreakable contracts with plantation owners, with wages set at $2 per month. He said that St. John workers escaped to St. Thomas where they could earn more money. He said that one returning worker reported receiving $1.25 a day to work at the harbor on St. Thomas.
"But it was the decline of the sugar industry that freed slaves from bondage," Sewer said.
However, they remained on St. John to eke out a meager existence through subsistence farming.
"This was the beginning of a new chapter on St. John," Sewer said.
Gilbert Sprauve spoke of the need for Delegate Donna M. Christensen to ask one of her Congressional colleagues to bring up the presidential vote issue at the hearing for Supreme Court nominee Elena Kagan. He said that while the territory can send its residents off to fight in wars, its residents can't vote for president. Sprauve added that the delegate has a very limited voice in Congress, which is why she can't push for the presidential vote herself.
While only a few people listened to the speeches, Cruz Bay Park was busy with people selling crafts, T-shirts, food, and other items.
"I've got mangoes, stewed tamarind, guavaberry, mango wine, gooseberries," Jerome Davis said.
For many years, Davis has come from St. Croix to sell in Cruz Bay Park during Festival events.
"I just love it," he said.
St. John resident Rose Smith, who had T-shirts, jewelry and dresses for sale, said business was "rocky." She said that sometimes she had plenty of customers but other times no one was buying.
Tourists were out and about. Vacation villa guests Michael and Bonnie Ray of Reading, Penn. were trying to track down a vendor who had just the T-shirt they wanted. Alas, the vendor appeared to have left for the day.
"But we came for the food. We love West Indian food," Michael Ray said.