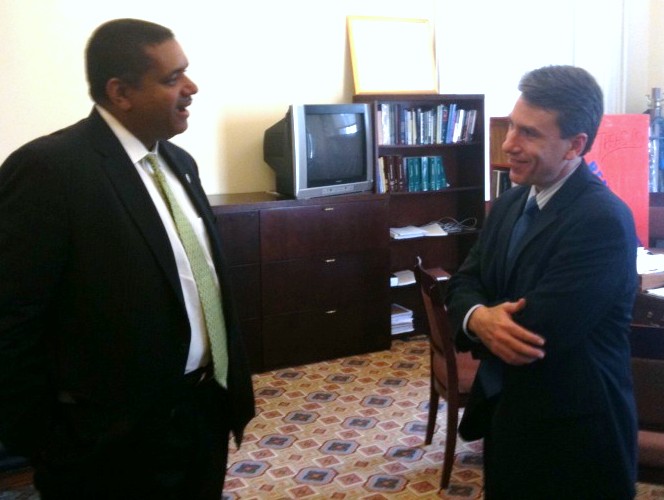 Talks with federal officials may have borne a major breakthrough for the territory's Economic Development Program, according to Government House. While in the nation's capital this week, Gov. John deJongh Jr. met with the new Assistant Secretary of the Treasury for Tax Policy Michael Mundaca.
At the meeting, Mundaca agreed to deJongh's request to establish a process to review residency and income-sourcing rules promulgated under the authority of the American Jobs Creation Act of 2004, according to a Government House statement.
Operating under federal guidelines, the V.I. Economic Development Commission confers substantial tax benefits on select new businesses that open in the territory, reducing most taxes to zero. In exchange, individuals and companies typically must commit $100,000 of capital, employ 10 local residents, buy goods and services from local suppliers and promise to make charitable donations. They must also establish residency and are advised to buy or lease a house and car, obtain a local driver's license and join local clubs, among other things.
Residency rules established by the 2004 act are too strict and have caused many EDC companies to leave the territory, according to deJongh. Previously, Mundaca's agreement to a review process moves the ball in the direction favored by the territory.
"The Obama Administration is committed to doing everything it can to promote economic development in the Virgin Islands and other U.S. territories," including revisiting the Jobs Act rules, Mundaca told the governor, according to Government House.
"This was the first time Treasury has indicated a willingness to collaborate with us in a thorough review of the tax rules in order to strike the right balance between enforcement and development," deJongh said in a statement. He said he is looking forward to starting this process with Treasury in the very near future.
DeJongh, who has been in Washington since Monday, returns to the territory on Wednesday.