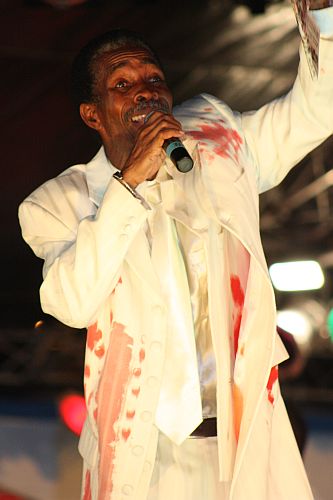 Poking fun at some of the year's biggest stories, such as Tiger Woods' very public fall from grace, this year's Calypso Monarch hopefuls also used their time on stage Thursday night to send out strong messages against gun violence and government corruption.
As a visual aide, reigning Calypso Monarch King Kan Fu Plentae (also known as Campbell Barnes) spattered his white suit with fake blood, while he sang about the gunfights that frequently play out on the territory's streets in a tune entitled "Stop the Bleeding."
"Don't wait on Jehovah to rescue us, this situation is contemptuous," Barnes told the audience scattered through the Lionel Roberts Stadium for the competition — a more than four-hour long event that capped off an even more jam-packed day of Carnival 2010 activities.
"It's getting ridiculous, another gunshot bust," he continued. "It's up to you and me to stem this crime in the territory, or very soon the young black man will be history."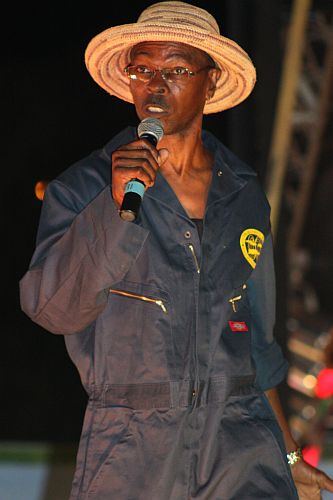 While Barnes clenched the title again this year, the competition was fierce, with some of the territory's favorite former monarchs vying for the crown. And in the end, the first runner-up was none other than Morris "King Generic" Benjamin, while the popular Samuel "Mighty Pat" Ferdinand slid into third.
Ferdinand also won the Calypso Monarch Committee's "Best Social" commentary award, taking the stage during the first round with a tribute to the earthquake-ravaged island nation of Haiti.
"I've never seen a country suffer so tremendously, Lord have mercy on Haiti," he sang. "With so much poverty, Lord have mercy, I've never seen so much chaos and anarchy. Some people have to flee, some get caught in slavery, Lord have mercy on Haiti."
Ferdinand delivered a completely different message in the second round, when he sang about his mistrust of local police officers in a tune entitled "Don't Tell the Police." "If something goes down when you're around, it's safer to keep the information to yourself, because some of the criminals could be related to officers in the department," he sang.
Many of the evening's songs had a similar slant.
Singing about a conversation that starts out between a cow and donkey, Myrel "Super T" Tonge showed how humans are destroying the world. The tune touched on everything from domestic violence to suicide bombers as the animals urged one another to "Stay Away from People."
"Stay away, people just get dangerous," Tonge sang. "People they have guns and they having fun shooting themselves down, gun flingers in the town."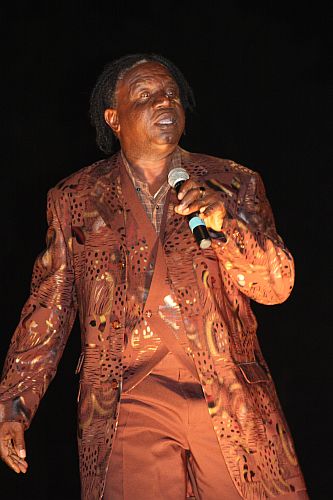 A new face in the competition this year, Tonge's daughter — performing under the stage name MaeChan — dazzled the audience with her voice, fusing calypso with a little bit of a soca-tinged beat in a song entitled "V.I. Cry."
Wrapped in a long swatch of madras fabric, she sang of the territory's past, a time when she said adults felt comfortable leaving their doors unlocked when they left the house.
"Violence and crime continues to rise, over the years so many lost lives," she sang. "Just look at the grave sites. When I hear the gunshots at night, it makes me want to just cry."
Turning her attention to government, MaeChan painted a disturbing picture.
"What do we get, when we elect," she asked. "The government is still telling lies, corruption on the inside."
Standing out from the rest, Jacqueline "Singing Jackie" Leader returned to the competition this year with some more positive lyrics, which paid tribute to the "V.I.'s Finest," the hardworking men and women of the local Police Department.
There are some bad apples among the bunch, but the whole force shouldn't be punished for their mistakes, Leader said.
"Please help the V.I.'s finest, citizens I'm begging you, help the men and women in blue," she sang. "Support the V.I.'s finest, do not condemn them all because of a dirty few."
She also urged community members to supply investigators with information by calling into Crime Stoppers USVI, the confidential hotline set up for receiving tips from private citizens.
This year's Carnival celebrations continue 10 a.m. Friday with the Children's Parade.