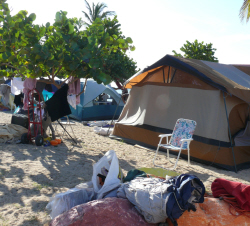 Easter is upon us once again, and on St. Croix that means thousands are taking to beaches all around the big island for family camping.
At Salt River, Dorsch Beach, La Vallee, Cane Bay, Great Pond, Ha'penny, Campo Rico, Altoona Lagoon and myriad other locations tents began appearing one by one early this week, suddenly exploding in profusion like popcorn as the weekend approached.
By Thursday afternoon, 50 or 60 tents were up way out east at Cramer's Park, and music and the smell of food on the grill began to waft on the breeze. Nearly half the tents are kids and parents participating in Positive Works, a more structured, summer camp-like experience put together by Sen. Terrence "Positive" Nelson.
Every year for the past 13 years, Nelson and his family have hosted the youth camp. "The object is to get kids away from the usual setting of video games and TV and doing more outside activities," Nelson said Thursday, as his mother Henrietta Nelson loaded up a plate of fried sprat, caught and cooked by patriarch Adolphus "Buddy" Nelson, to munch on.
The camp has hikes down to Jack and Isaac bay, a daily beach cleanup and other structured activities for the children. Adults sit down with the children for structured discussions, where the children talk about what is on their minds, with adults guiding the way and offering feedback, he said. On Easter Sunday, there is a sunrise service and they hold a meeting to talk about the meaning of commemorating the resurrection of Jesus Christ.
"We also have a sort of boys-to-men ritual, where we go through a little process out in the bush, sort of like a badge of courage," Nelson said.
There is a fee, to help cover food and supplies, but it often ends up being negotiated based on ability to pay, Nelsons said. Plaza Extra, Food Town, McDonalds and other businesses help out by donating food, ice and other supplies. By the weekend, there will be over 60 children and 20 to 30 adults, he said.
Many of the children come year after year.
"It's a fun way to get away from the home and have another experience and I like sleeping in the tents," said Brandon Brewster, a 15-year-old student at St. Croix Educational Complex, who is back for the fifth time.
"I really like the hike we do on Saturday and the sunrise service," said Elizabeth Montanez, a senior at Complex back for her fourth or fifth time.
To get to campsites on the South Shore at Great Pond you have to drive many hundreds of yard through dense brush, skirting the edge of the pond. When it has been raining, the way is nearly impassable. A dozen or more families keeping coming back to the same spot not just year after year, but generation after generation.
"We've been coming here for at least 28 years," said Raul Torrens Sr. "My son here, Raul Jr., has been coming all his life. And my grandson, Raul Esteban Torrens, his mother's water broke while we were out here, Good Friday, April 13 of 2001, so he was practically born out here. We have five generations here."
Depending on their inclination, family members sit and talk, swim, boat and fish, cook, eat, play dominoes and sleep.
The future of camping at Great Pond is somewhat uncertain. Paul Golden of Golden Gaming plans a resort hotel on the property. In December 2008, construction crews bulldozed many of the campsites, knocking down shanties into piles of rubble. Since then, campers have returned, setting up more temporary outposts.
The Torrens, Encarnacion and Rivera families all use the same site and take pride in taking care of the land and leaving no mess. "In three decades, there has never been an incident of any kind, and look around, there is no trash," Torrens said. "We clean up everything and there is a Porta Potty we rent for the weekend."
A hundred yards away, the Cruz family makes camp and a regular stream of family and friends pops in and out. Vera Falu, director of the Herbert Grigg Home for the Aged, has been coming to camp with the Cruz family for 30 years, she said.
"It is a great time to get away with the family," she said. "We sit around and tell stories with the children."
Alicia Barnes, chairwoman of the Democratic Party District Committee, was there visiting the Cruz campsite Thursday.
"This is a great Crucian tradition we hope remains alive and well and can be preserved for our children and grandchildren," said Barnes. "I remember as a little girl my dad would take us camping at Cramer's park and we would play outside all day and get so tired and sleep in the tent t night. It was just a great thing. … Monday is my daughter's birthday so we are going to have a little celebration right here by the sea."
It is difficult to leave any of the campsites without drinks and food in your hand, especially the Cruz family site. Ruth Cruz loaded up a heaping plate of arroz con pollo, beans and steamed conch for this visitor.
"It is fresh conch, caught today," Cruz said. "You can't leave without eating," she said with a note of finality.
Many families have been camping for several days already, with a core group holding down the fort while friends and hangers-on come and go. Most families will have a big feast on Easter Sunday and pack and clean up Monday and Tuesday. Then it is back to the normal day to day world of work and television.