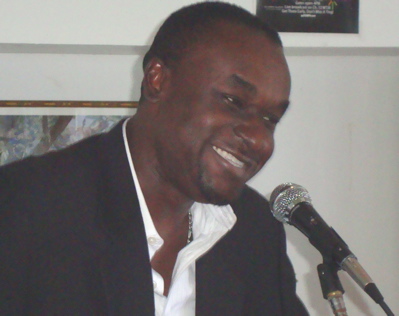 Tempo, the Pan-Caribbean television network that explores and celebrates the music and culture of the region, is celebrating its fourth anniversary and planning even bigger things for its fifth year.
At a Wednesday press conference, Tempo founder and CEO Frederick A. Morton Jr. talked about the network's history, plans to expand the network in the coming year, and the upcoming Nov. 14 concert on St. Croix, featuring some of the biggest names in Caribbean music.
The upcoming concert, at the Randall "Doc" James Racetrack, begins at 7 p.m. and will "go 'til morning," Morton said. "It's going to be a great party."
Gates open at 4 p.m.
The pre-show, from 4 to 7 p.m., will include a mix of local bands and performers, including Black Star Band, Empress Nyingro, Bobo Ites, X-Kaliba, Rankin and Harry Mo.
Jamaican dance hall sensation and Grammy winner Shabba Ranks, who has had international breakout success, headlines the show, which also features Puerto Rican salsa band N'Klabe, reggae stars Tarrus Riley and Gramps Morgan, Trinidad Soca star Iwer George, Jamaican dancehall diva Ce'Cile, gospel singer Omari, reggae singer Mada Nile, St. Croix Road March Champions UMB Soldiers, 2008 V.I. Idol winner Cherise King and DJ Poppy Pops. (For ticket information, see bottom of story.)
Morton said no Tempo event throughout the Caribbean has ever drawn fewer than 8,000 fans, and the upcoming Tempo Turns 4 concert will probably draw 12,000 or more. He noted that studies have shown that past Tempo concerts have had a significant economic impact on St. Croix.
A new product bearing the Tempo logo will also be unveiled at the concert: Tempo Bottled Water. Morton said he has been looking to add products that bring value to the islands. Given that diabetes and other diet-related illnesses are a growing health problem in the islands, Morton said that drinking more water was one way to a healthier lifestyle.
Since first going on the air in 2005, Tempo has emphasized original programming, rediscovering Caribbean culture and supporting local artists.
Possibly as early as next year, that culture will be brought to the expatriate Caribbean people now living in the states, as Tempo begins planning its launch in the United States.
MTV, which Morton once worked for, never embraced the idea of a Caribbean-based entertainment platform and probably never will, Morton said. "You know when they will?" he asked. "When I go up to the states and it becomes the hottest thing."
"MTV and BET have their own thing to do," he added, "and I have my thing to do."
But he's also not planning to make the move prematurely. Tempo will launch in the states only when Morton thinks it's ready. In the meantime, he's also planning an eventual launch in Africa.
The Nov. 14 concert will also be broadcast, beginning at 4 p.m., on public television station WJTX.
Ticket Information
Tickets are $35 for general admission, $45 for bleacher seats and $125 for VIP seating. Tickets are available at a host of outlets around the territory, including:
St. Croix: Alliance Clothing, Urban Threadz, La Reine Chicken Shack, Riddims, Pancho's, Parris Tees and Novelties, Essentric Shoe Boutique, One Love Service Station, Morgan's Enterprises, Mala-bu Fun Spot, Armstrong Ice Cream Tropical Cleaners and Na'tral Xpression Hair Salon.
St. Thomas: International Records and Tapes, VI Sea Trans, Essentric Shoe Boutique, Jen's Gourmet Deli, Stride Rite Tutu Park Mall, Urban Threadz, Lone Eagle Supermarket, Matrix Beauty Supply Store and He Say, She Say Boutique.