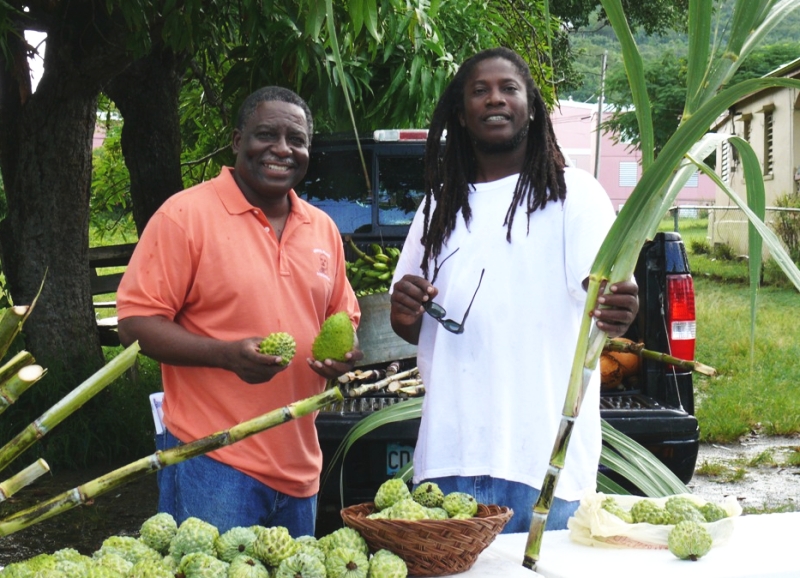 Despite early torrential rains, a crowd came out to D. Hamilton Jackson Park in Estate Grove Place Monday to celebrate the life of the man for which the park is named.
"Rain in the morning is a tradition for D. Hamilton Jackson Day," said Percival Edwards of V.I. Farmers in Action, who was at the park offering for sale piles of sugar apples, bananas, sugar cane and coconuts.
Every year since 1915 there has been a celebration near the Grove Place Baobab — across the street from the park — commemorating the organized labor movement on St. Croix, and in time coming to commemorate Jackson as founder of the movement on the island.
Born in 1884, Jackson made an indelible mark on V.I. history in 1915 when, at the age of 31, he traveled to Copenhagen to successfully petition King Christian X of Denmark to lift an edict prohibiting independent newspapers, then returned home to St. Croix to found the first free newspaper in the territory, The Herald. As the story goes, the first edition of The Herald was posted on the Grove Place Baobab, and the spontaneous celebration that took place there as a result led to the slaughter of a bull and the distribution of roast beef and bread to the excited crowd. Since that day, Nov. 1 has come to be known as Liberty Day, D. Hamilton Jackson Day or Bull and Bread Day. Celebrations were held on Nov. 2 this year, since Nov. 1 was a Sunday.
The newspaper was a major milestone, and one that attracted worldwide attention. But Jackson had been organizing labor for some time before then, and earlier the same year, in January 1915, he successfully initiated a general strike. At the time, most of the people on St. Croix labored on sugar cane plantations under severe work conditions and a standard pay rate of 20 cents a day. The six-week strike crippled a dozen different estates and brought the massive Bethlehem Sugar Factory to a halt at the peak of the harvest. The major landowners and owners of the factory capitulated, and overnight wages went up to 35 cents a day — a 75-percent raise.
After the U.S. purchase of the Danish colonies in 1917, Jackson was an influential voice pushing for full citizenship for Virgin Islanders, protesting naval rule and insisting upon civil government, contributing to the passage of the first Organic Act in 1936.
Once the rain let up, food vendors set up their wares, more and more families and politicians arrived, and people milled about, talking with friends and onlookers.
"I've been coming to these since I was a child, since before my teenage years," said Sen. Usie Richards. "It is important for the young and for everyone to come out and learn about the contributions of this man."
A little after 2 p.m. ceremonies began, with Sen. Sammuel Sanes, Lt. Gov. Gregory Francis, Gov. John deJongh Jr. and a series of speakers extolling Jackson's legacy and drawing from it lessons for today.
Tre'Von Porter, a fourth grader at Eulalie Rivera Elementary, was no doubt the youngest, taking the microphone and reciting the historical events of Jackson's career.
"Today I would like to urge my schoolmates and fellow Virgin Islanders to adopt the attitude of the freedom fighters, David Hamilton Jackson and President Barack Obama," Porter said at the conclusion of his speech to the crowd. "They fought hard and so should we. To that end, I close by repeating a part of my school's Character Education Affirmation: 'I can do anything that I put my mind to do. I must succeed.'"
Laquida Iles, president of the Grove Place Weed and Seed Teen Youth Group, talked about Jackson in the context of the territory's current political and social issues, asking if Jackson would be pleased to see students rushing to get homework done in the library because there weren't enough books for everyone and they had to finish so others could start, or happy to hear about school athletic groups struggling again and again to get funding for intramural sports travel.
"He would be outraged by the level of violence we see today," Iles said. "And we should stop calling it Bull and Bread Day. That is just a meal."
DeJongh praised Jackson as the forerunner of many V.I. leaders, from the many troops and officers currently serving overseas to the Virgin Islanders that have served as ambassadors and held other high offices in the years since. Francis praised Jackson's perseverance and focus.
"He was a man with a vision," Francis said. "He had a plan and he got it done. And he did it all nonviolently."
Once the speeches and benediction were complete, DJ Karl struck up the soca music and everyone lined up for the traditional meal of beef and bread, served up by volunteers from the Grove Place Action Committee. Along with support from government agencies and volunteers, Cruzan Rum, Plaza Extra and GEC helped to sponsor Monday's events.