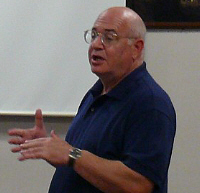 Overhauling zoning in the territory will help both to preserve the goals of orderly, sustainable, environmentally and culturally appropriate development and at the same time make it easier for developers by giving them consistent and predictable rules.
That's the conclusion of a year-long detailed study of the territory's zoning ordinances and processes commissioned by the Department of Planning and Natural Resources division of Comprehensive and Coastal Zone Planning.
Stuart Meck, a research professor at Rutgers University, and Marya Morris of Chicago-based Duncan Associates, briefed the St. Croix Coastal Zone Management Committee and a handful of residents on the main points of their study Friday afternoon on St. Croix. They've been meeting this week with the CZM committees and residents of the three major islands to present their findings and gather feedback to incorporate into their final recommendations.
On the one hand, Meck and Morris said the existing zoning code is scattershot and incomplete, spread out in several areas of the code, with rules accumulating in a haphazard way as bills are passed, and leaving important issues unaddressed.
"For instance, there really are no steep slope standards in the code," Meck said. "With all the steep land being built upon here, that's important and can affect a lot of development."
The code needs clearer rules or any rules for stop-work orders, fact-finding hearings and other procedural issues, Meck said.
"That language just is not in there right now," he said.
Many of the report's findings point out blank or weak areas in the code, suggesting general areas to fill in but not suggesting how. For instance, they suggest clear guidelines for the height, number of stories and how many people can live in each dwelling.
"How many stories is up to you," Meck said. But the code should be clear, detailed and unambiguous, he said.
Few of the suggested changes to zoning law raised eyebrows or objections among the small audience. Questions focused instead on how the zoning changes would fit into a comprehensive plan and if a comprehensive plan needed to be developed first.
"I'm a planner by trade, and yes I'd absolutely say it would be best to develop zoning as part of a comprehensive plan," Meck said. But doing so was a much larger, more expensive and time-consuming project, he said.
Carl Christopher of Per Ankh in Frederiksted, Carol Cramer Burke and Paul Chakroff of the St. Croix Environmental Association discussed the ins and outs of master plans with Meck, Marya and the committee, with Christopher asking who is in the best position to make a comprehensive plan a reality. Sen. Shaun-Michael Malone chairs the relevant Senate committee, said CCZP director Marjorie Emanuel, and because DPNR oversees zoning and environmental protection, DPNR Commissioner Robert Mathes would ultimately be most connected to that process, the group determined after brief discussion.
While Meck favors comprehensive, goal-oriented planning as a rule, he said he believed in this instance the V.I. Government was trying to improve the existing system quickly in the short run, while comprehensive planning was a long-term project.
"What we were asked for were very specific, implementable changes to the zoning code that could be done more or less right away without too much difficulty," Meck said.
This week's report is the beginning of the process of reforming the zoning code. Once the final report is complete, a contractor will need to draft actual, detailed changes to the law to incorporate into comprehensive zoning legislation, Emanuel said. Funding for that process will have to be found and appropriated, then requests for proposals issued and a contractor selected, a process that may take about a year and a half, she said.
If the project moves forward, there will be several more rounds of public hearings before any final draft is presented to the Legislature, she said. And then, of course, the Legislature would have to introduce and adopt the changes to the code. A copy of the zoning report can be found on DPNR's website.