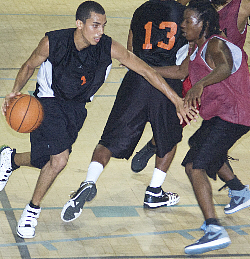 Legacy outscored Ujima 18-11 in a decisive fourth quarter of an 85-72 victory, in what to that point had been a hard-fought contest between two evenly matched teams at the Educational Complex gymnasium Thursday.
In the first game of a New Breed Basketball Association double-header, Ujima blew too many gift opportunities in the final quarter.
Legacy, dominant early in the third with leads of up to 11 points, withstood a Ujima rally late in the period and early in the fourth mainly through the efforts of floor general Bobby Evans and forward Sean Tutein. Evans' ball-handling skills were paramount against Ujima's desperate, scrambling defense as time wound down, and Tutein was tough on both end of the floor, scoring and rebounding down the stretch.
Ujima got seven points from Kori Vialet and six from Rubio as they took the opening period 19-16. However, a role reversal of sort by Legacy's Tutein and Chris Floyd, who knocked down seven and six points respectively in the second period. led their team to a 22-19 quarter, and the game was all squared at 38 heading into the locker room at the half.
Legacy exploded out of the gate in the second half, dropping five three-point bombs on Ujima to open the third quarter on a 17-6 run, and just like that they were up by 11 at 55-44. Ujima responded with a 17-12 run to be within six points of the lead at 67-61 at the end of the third quarter. Floyd led Legacy's three-pointer barrage with three bombs and finished with a total of 10 points in the period. Tutein knocked down a three-pointer and finished with seven third-quarter points as Legacy took the third, 29-23. Ujima's closing run was a balance attack led by seven points from Heywood.
Ujima turned up the defensive intensity in the opening moments of the final quarter, and it propelled them on a 7-4 run to be within three points of the lead at 71-68. They could have easily taken the lead if they could have taken better care of the ball.
They scored seven points on the opening run but fumbled away far too many chances to score more points. In the end, Legacy was able to gather themselves and push through for the victory with an 18-11 fourth period.
Tutein led Legacy with game-highs in both scoring and rebounding. He scorched the nets for 29 points while grabbing 14 rebounds. Evans showed that he was not only the playmaker with his game-high eight assists, he also showed that he can also put the ball through the hoop with 15 points. Legacy also got 16 points from Floyd and 10 from Leandre Arindel.
Heywood led three Ujima players in double figures with 19 points. Teammates Jobari Applewaite and Vialet netted 11 and 10 points respectively in a losing cause.