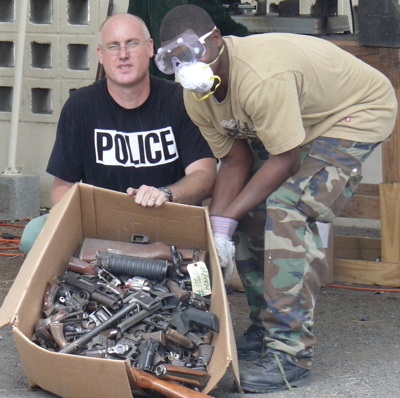 The V.I. Police Department publicly destroyed 332 firearms Wednesday at the Patrick Sweeney Police Headquarters, making certain they cannot ever be used in a crime.
"This is to ensure the guns definitely do not get back on the streets," said Melody Rames, public information officer for the Police Department.
Supplementing their own grinders and torches with equipment borrowed from the High Intensity Drug Trafficking Areas task force and even officers' personal tools, St. Croix Deputy Chief Christopher Howell and several officers spent long, hot, smoke, spark and noise filled hours systematically breaking down the weapons. With as many as four teams working simultaneously, they would put a handgun or a rifle into a vice, lay a grinder to the barrel, the cylinder or the firing mechanism and let the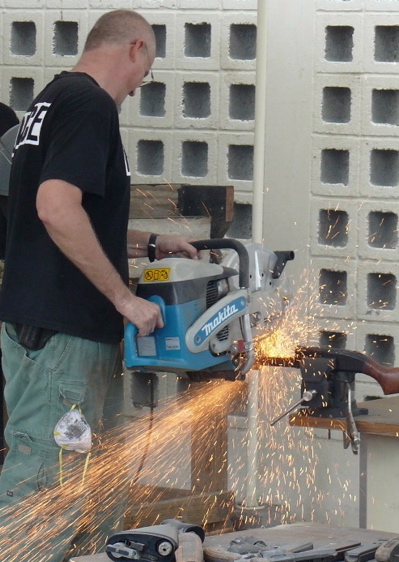 sparks fly as they cut each weapon into at least five pieces.
Handguns of all shapes and sizes, Glocks, Smith and Wessons, shotguns, and rather disturbingly, a grenade launcher, were all among the heavy boxfuls of steel tools for killing. The grenade launcher was turned in by a person with a collection of weapons and was not used in a crime, Howell said.
"This is phase one of three phases for these guns," Howell said. "One, we cut up the guns, two; we crush them into cubes and three; we ship them off island to be melted and recycled"
Of the 332 weapons, 220 were turned in to the police as part of an amnesty program and the rest were confiscated during arrests. The department regularly destroys weapons, and has already gotten rid of 250 or so this year, Rames said. This time they brought in extra equipment in order to very publicly destroy many more at once.