The drought conditions across Puerto Rico and the U.S. Virgin Islands persist, with St. Thomas and St. Croix among the most severely affected areas.   
"According to the U.S. Drought Monitor, Exceptional Drought (D4) conditions are prevailing across St. Croix and St. Thomas, while St. John is observing Severe Drought (D2)," according to an update on Friday from the National Integrated Drought Information System (NIDIS) and the National Oceanic and Atmospheric Administration (NOAA).   
"Around 47 percent of Puerto Rico is currently considered dry or in drought according to the U.S. Drought Monitor, with nearly 14 percent in Moderate Drought (D1)," the update continues.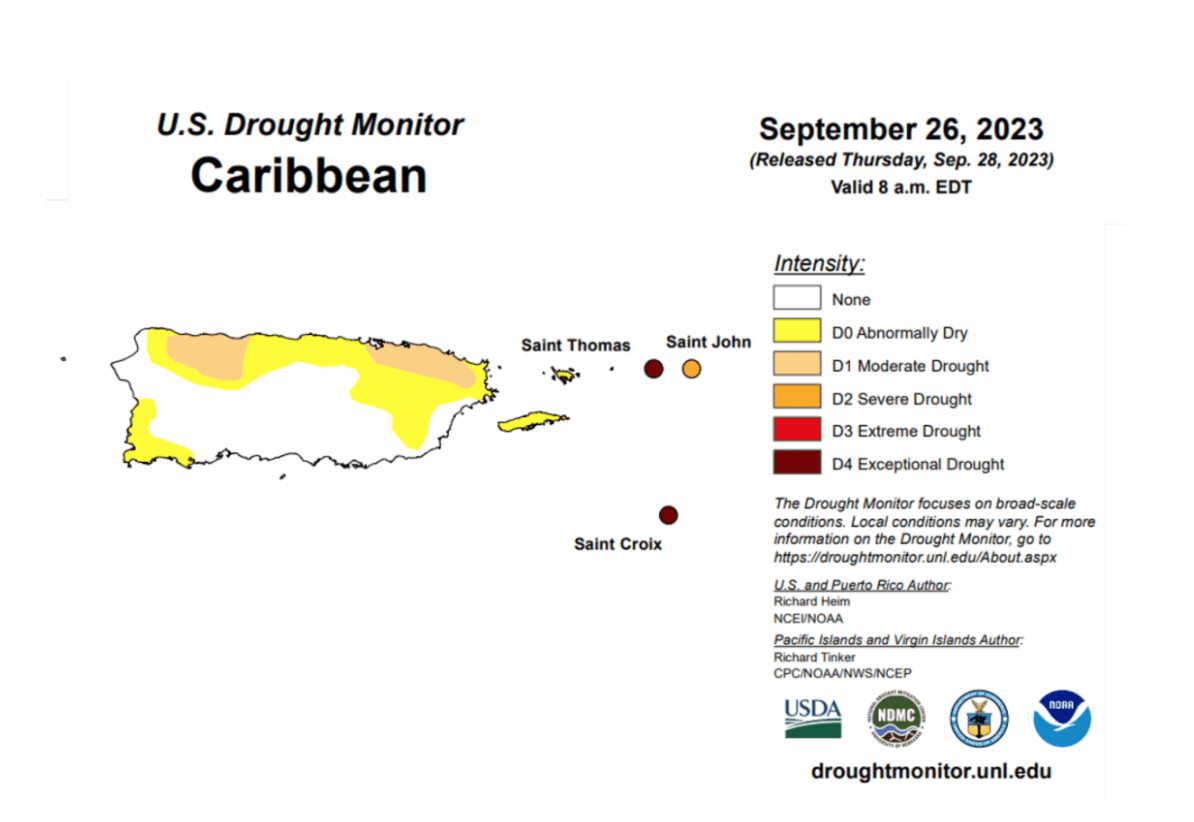 In addition to lower-than-normal rainfall amounts, the report notes that September was one of the warmest on record across both territories, and the high temperatures have contributed to the dry conditions due to evaporation. Notably, St. Croix has logged the hottest month ever recorded.   
"Besides the dry conditions, record heat has prevailed as well. September 2023 will end up as the warmest month ever on record at St. Croix, with an average temperature of 87.5 degrees Fahrenheit through Sept. 27, which will surpass the previous record of 86.7 degrees Fahrenheit set just last month," according to the drought update.  
Similarly, San Juan, Puerto Rico may also be on track to break its record for the hottest month on record.  
"September 2023 will easily end up as the warmest September on record, with an average temperature of 85.8 degrees Fahrenheit through Sept. 27," stated the NIDIS update. "In fact, it may likely end up as the hottest month ever across the San Juan Metro Area. The current record is 85.7 degrees Fahrenheit set in June 2012."   
Relief for Farmers and Livestock May Be Coming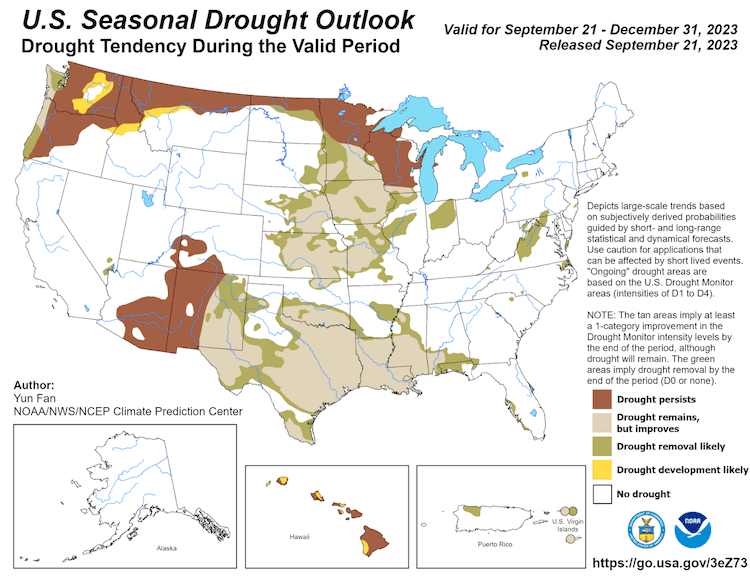 Agriculturalists on St. Thomas and St. Croix have been particularly hard-hit by a lack of rain and hot temperatures.   
"Farmers in St. Thomas are reporting that ponds are evaporating due to the high heat, but limited and sporadic rain is helping them recharge. High winds have reduced soil moisture," the update said.   
Crops and livestock have been negatively affected, and St. Croix farmers report a significant reduction in egg production because of the hot weather.   
"Poultry farmers are indicating that egg production has been reduced by more than 50% due to the heat," according to the report.  
Fortunately, some relief may come soon as the rainy season approaches.  
"Seasonal drought outlooks call for improvements across the local islands. Climatologically speaking, September, October, and November are the wettest three consecutive months of the year at both St. Croix and St. Thomas, with average rainfall of 15-18 inches, respectively. November is the wettest month of the year for San Juan, with nearly 7.5 inches of rain on average. Thus, even only near-normal rainfall in all these locations would result in drought improvements."   
Residents and individuals in the agricultural industry can stay updated on the latest information regarding drought conditions on the National Integrated Drought Information System website.    
Weather information is also updated regularly on the Source Weather Page. USVI residents and visitors can also sign up for emergency alerts from the Virgin Islands Territorial Emergency Management Agency and the National Weather Service.