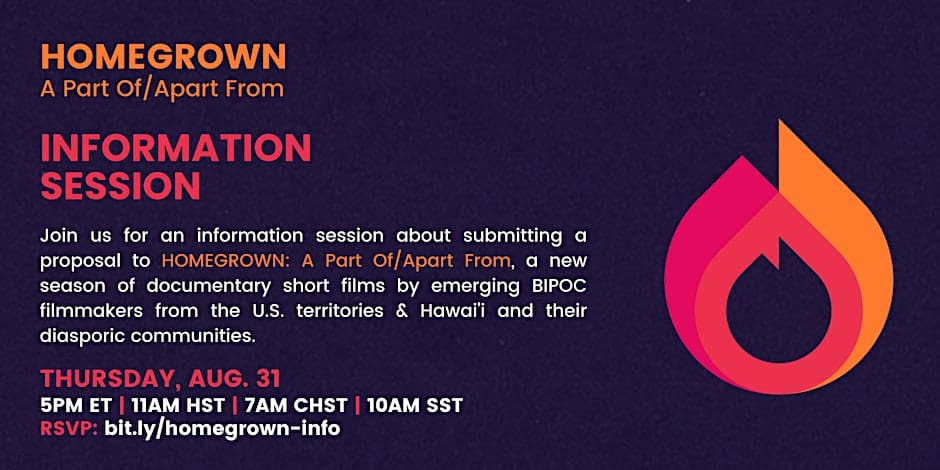 A new filmmaking contest asks Black storytellers in the U.S. territories to consider their island's true untold tales.
The project, HOMEGROWN: A Part Of/Apart From, centers on stories grappling with issues of sovereignty, agency, and the ways communities can negotiate what it means to be a part of the broader United States and also apart from it.
People from U.S. territories and Hawai'i who identify as Black, Indigenous, or People of Color can send proposals or works in progress to potentially win $45,000 in funding for their project, said Chloë Walters-Wallace, director of regional initiatives at Firelight Media.
"It's determined by a number of factors which includes clarity of vision for their film, well-created submission materials, need, and readiness to complete the work in the determined time frame," Walters-Wallace said.
Representatives of Firelight, Black Public Media, Latino Public Broadcasting, and Pacific Islanders in Communications will judge the submissions and choose eight winners. Those chosen will get funding for films up to 15 minutes in length covering non-fiction stories that illuminate the living histories, cultures, and future visions of the regions.
Chosen filmmakers will get to work with the production companies and receive distribution through PBS Digital Studios, with a planned release date in winter 2024.
Judges are looking for proposals that ask: What does duality look like in your community? In what ways does the past affect the present? What socio-cultural values should be retained? What communities would benefit from amplification? Are there movements/people/events that have flourished that the rest of the country should know about? How can difference be a propelling force?
Suggested topics include:
New forms of resistance
Land rights and reparations work
Climate change and migration
Cultural changemakers
Community portraits and rituals
Bureaucracy and its misuse
Healthcare and the body
Celebrations and joy
Voting rights
Historical inaccuracies
Militarization
Self-determination
Home and identity
Solidarity across territories
Duality
Freedom
A free webinar is planned for Thursday at 5 p.m. to answer filmmaker questions.
Rules include being able to meet the late 2024 deadline. Also, the project must be short- form non-fiction with a duration of 8 to 15 minutes, be in development, pre-production, or early production — no post-production or completed project allowed. Applicants must identify as Black, Indigenous, and/or a Person of Color and reside in or be a descendant of the U.S territories or Hawai'i, own the copyright of the proposed project, be over 18, and be willing and able to work collaboratively with Firelight Media, PIC, the National Multicultural Alliance partners, PBS, local public media staff, and mentors. Only one proposal may be submitted per applicant and the project can't be part of a credited college class.
As the contest seeks to amplify lesser-heard voices, people living in Los Angeles and New York are asked not to apply. Other rules are found here: firelightmedia.tv/programs/short-films.
The deadline for entries is 2:59 p.m. Sept. 18.